In response to a state increase in fines for minor offenses, the city recently adopted a program that gives police the option of writing city-issued tickets for minor violations of city ordinances. The new program will also put money into the city's general fund.

At a regular meeting held on Wednesday, Aug. 13, the Paynesville City Council approved an administrative offense program and accepted a fine schedule. The program should be in use by early September. Proposed by police chief Kent Kortlever, administrative offenses give officers a way to enforce minor infractions of city code, without issuing hefty fines that are shared with the state.

Under the new program, a speeding ticket – for a first time offender not driving recklessly – in the city will cost the driver $65 instead of $103, the new state fine.

The offense will not go onto the driver's record, and the full amount of the ticket will go into the city's general fund.

According to Kortlever, in the past officers had only two options for dealing with minor crimes – to write tickets that most officers thought were too expensive for people who usually tried to do the right thing, or issue verbal or written warnings.

The administrative offense program gives officers a third option while giving minor offenders a break, according to Kortlever.

The program also gives the city an option for dealing with problems that officials may have been reluctant to enforce – such as failure to cut grass – in the past, said city administrator Steve Helget. Other offenses to be enforced by public works officials include, sump pump violations, plumbing without a permit, and sprinkling violations. These should be easier to enforce now, said Helget.

Kortlever based the city's program and fine schedule on a similar one in Kimball. Administrative offense programs are being adopted by municipalities throughout the state, said Kortlever, partially in response to increasing mandatory minimum fines for criminal citations.

Now, with a traditional criminal citation that carries a $103 fine, $77 goes to the state and the city keeps just $26. Under the administrative offense program, the full amount of fines will go into the city's general fund.

Administrative fines will only be used for some petty misdemeanors. Officers will use their own discretion to determine when a criminal citation should be issued. For example, repeat offenders will be issued criminal citations.

Criminal citations will also be issued for crimes that are considered gross misdemeanors and felonies such as DUIs and reckless driving.

If an administrative offense isn't paid in the allotted time, a criminal citation will be issued retroactively, and the offender will be responsible for the higher fine which the state will be responsible for collecting.

A hearing board – made up of three city council members – will be established to hear disputes, although Kortlever doesn't believe there will be many disputes. Most people will realize they've been given a break when they weren't issued a criminal citation.

Now that a fine schedule has been approved, tickets need to be printed and police officers need to become familiar with the program which is scheduled to begin in early September.

Paynesville Township contracts for police protection with the Paynesville Police Department. The township board has expressed interest in the administrative offense program but has not given final approval for the program nor has it approved a fee schedule yet.

If it does, its fine schedule will likely be very similar to the city's.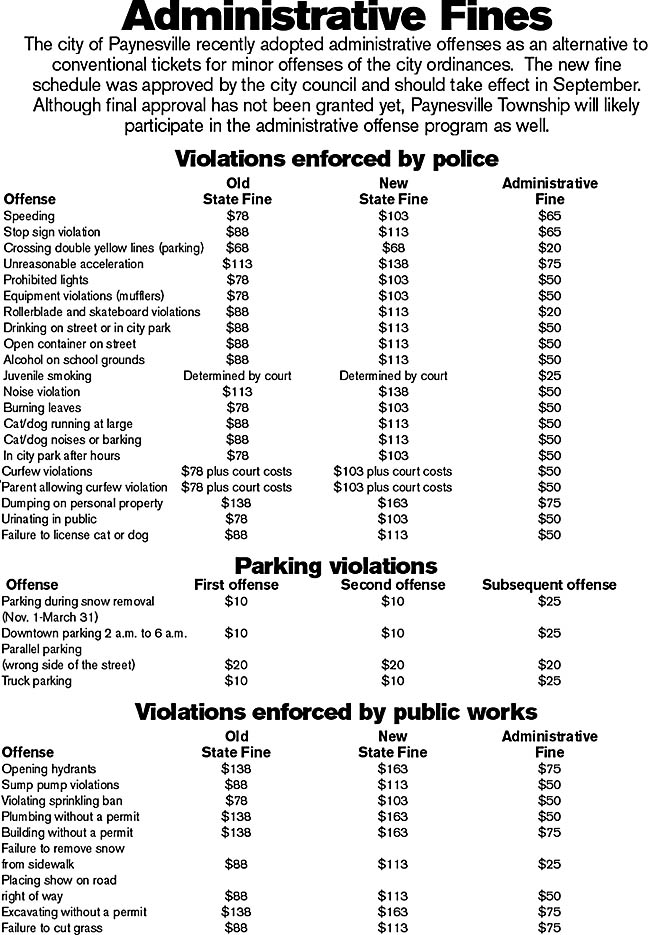 ---
Contact the author at editor@paynesvillepress.com • Return to News Menu
Home | Marketplace | Community
---