Schoenherr joins FCS in Graceville
This article submitted by Linda Stelling on 8/18/98.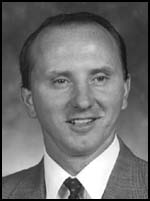 Warren Schoenherr has joined Farm Credit Services in Graceville, Minn., as a new loan officer. He is responsible for marketing and extensions of credit and financial services to ag producers in Big Stone and Traverse counties.

Schoenherr has been involved in agricultural sales for more than 20 years, the last 13 in the feed business with Cenex/Land OíLakes Ag Services, based in St. Paul and Farmland Industries, Mankato.

A native of Paynesville, Schoenherr has a degree in agricultural business from Willmar Technical College. He is the son of Delores Schoenherr, Paynesville, and the late Oscar Schoenherr. Schoenherr and his wife, Corryn, live in Morris. They have two children.
---