Erin Vork accepted to Interlochen Academy of Arts
This article submitted by Beth Zimmerman on 8/18/98.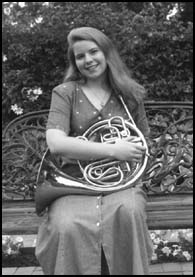 The ambition of the typical 16-year-old doesnít necessarily run very deep. Having fun, checking out the opposite sex and earning a driverís license are often the driving ambition in their lives.

Although 16-year-old Erin Vork is no different from other teens in her adolescent experiences, she also possesses the drive and ambition of a promising musician. This fall, Vork will leave for Interlochen Academy for the Arts, located near Traverse, Mich., to spend her junior year of high school in intense study of the French horn and vocal performance.

Vork underwent a rigorous application process to Interlochen after hearing about it from Kendall Betts, principal French horn player for the Minnesota Symphony Orchestra. He recommended that she look into the school after hearing her play during a special, one-time lesson with him.

It should be no surprise that Vorkís talent gained her acceptance and financial scholarships to what is known as one of the best music schools in the world. Both of her parents are musicians, and Vork says that she grew up around music.

ďIíve taken piano lessons since third grade and horn lessons since seventh,Ē she said. ďThat musical interest has always been there.Ē

Vork will major in the French horn and minor in voice. While Interlochen also offers majors in drama, dance, writing, etc., it is best known for its band and orchestra programs. Vork is automatically eligible to play in the band, but she plans to audition for the orchestra.

ďIím terrified of the competition there,Ē Vork said. She knows it will be much more intense than she is used to.

The average graduating class of Interlochen is around 100 students. Vork is unsure whether she will study for two years at the school or if she will return to Paynesville to complete her senior year.

Vork has high expectations for her time at Interlochen. ďI want to decide how far to take my interest in music and how deep my interest in the horn actually is,Ē she said.

Vork is noncommittal when discussing her plans for the future. Although alumnae of Interlochen often go on to attend college at famous music schools such as Juliard, Vork puts no such pressure on herself.

ďI think itís fair to say that Iíll do something with music in my life, but at this point Iím not really sure what,Ē she said.

Vork will a give a concert of horn, vocal and piano music on Sunday, Aug. 30, at 3 p.m. at Paynesville Lutheran Church. Admission is free, and the public is invited to attend.

ďI knew I would need some incentive to keep practicing all summer,Ē she said.

The average 16-year-old doesnít travel 18 hours to attend high school, nor does he or she spend the majority of a dayís hours practicing a musical instrument. Vork, however, has no intention of being ďaverageĒ while studying at Interlochen Academy for the Arts.
---