On Call tour of Zimbabwe includes three local youth and adult leaders
This article submitted by Michael Jacobson on 8/18/99.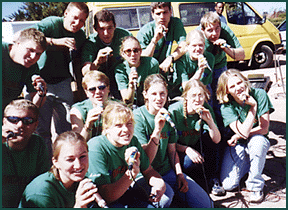 Participating in a six-week musical tour to Zimbabwe in the summer after graduating from high school may sound like a vacation, but while there was joy in performing, in meeting Christians in an exotic land, and in sharing their Christian faith, doing 95 performances requires a lot of effort and work.

"It wasn't a vacation by any means," explained Josh Ryan, one of the three local members of the 20-person On Call summer touring group (pictured at left).

Ed Gardner said there were times when he didn't even want to see the drum set, let alone set up that part of the group's band. Seeing the smiling faces in the audience made it all worthwhile, he and Ryan agreed.

Doug Marthaler added, "(The trip) is something we'll never forget."

The On Call group, under the direction of Gary Condon, left Minnesota by bus on June 11, and toured and traveled to New York City via Chicago, Ohio, and Washington, D.C. They flew to London, and then on to Harare, the capital city of Zimbabwe.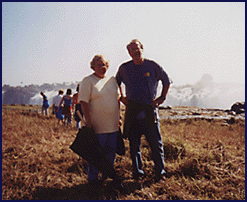 The group consisted of 16 singers and four band members. Chaperones were Gary and Delores Condon (pictured ar right) of Paynesville.
The group sang and played contemporary Christian music. They also did a skit with four songs, which was easy to understand if language was difficult. English is the official language of the country, but tribal languages are still used as well.
The group started with ten days in Harare, and then made a counter-clockwise loop of the landlocked African nation, which lies just to the north of South Africa. They spent a week each in Chinhoyi and Gwerdu and then ten days in Bulawayo, the country's second largest city. They stopped in Masvingo for five days before returning to Harare for a couple days before flying home at the end of July.
"We did 95 concerts," said Ryan, "on average of two or three a day. Some days (we did) four, some days five." Their days sometimes started at 5:30 a.m. and might not end until midnight.
Gary Condon, who has taken over ten trips with On Call groups to Asia, Africa, and Central America, said, "This group was probably the best group I've taken. It took a tremendous amount of physical and emotional strength to do it."
"It was rarely a vacation," he added. The concert-to-concert touring was an experience on its own.
Their performances were coordinated in the country by the Youth for Christ organization there, with help from the Scripture Union, an organization that teaches Bible classes in schools in Zimbabwe. They performed in churches of various denominations, in high schools and primary schools, and in public venues out of doors.
"The bulk of our work is in school assemblies," said Condon, who estimated that they sang for 60,000 students in Zimbabwe. "We sang in every kind of school imaginable: boarding schools, government schools, church schools, and private schools."
His favorite type of schools were boarding facilities in the bush, or countryside. Seemingly out in the middle of nowhere, they'd perform for 500 students in a village.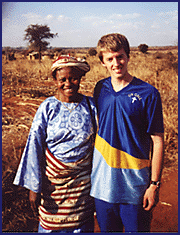 The churches where they performed ranged from well-built structures to a make-shift tent-like building consisting of poles for sides and tarps for a roof.
All three agreed that the audiences made performing especially rewarding. "I enjoyed seeing all the smiling faces," said Gardner (pictured at left with a host pastor).
"The people were really responsive," said Ryan. "They really seemed to enjoy having us there."
Marthaler enjoyed being on stage and also enjoyed meeting the people, either the audience after concerts and people in the market as well. "You'd get some good conversations going," he said.
The people in Zimbabwe seemed very devoted to Jesus, Ryan thought. "The people there don't have all the securities and comforts that we do," he explained.
"Some of these people, all they have is their faith," added Gardner.
So the message of having a friend in Jesus resonates strongly there. "Of course they're going to go for that," said Ryan. "It's better than anything they've got. It's better than anything any of us has got."
Condon said that over 80 percent of the people in Zimbabwe live in poverty. Wages for some of the local people who helped organize the tour in Zimbabwe were between $75 and $100 a month. "The standard of living is really quite different than ours," he explained.
Unlike America, the market isn't saturated with music and live performances are rare. "They're so responsive," Condon said, "because they get so little live entertainment and also they don't get the television and radio...like we do...so it's fun for them."
Throughout the tour, one week in the states and six weeks in Zimbabwe, the group stayed with host families. Often the group members would be paired up with a family, but sometimes they would be assigned in larger groups or alone. They would stay with leaders and members of churches in the area.
"We weren't staying with the poor people by any stretch of the imagination," said Ryan. Most of the host families were white, but they also had a chance to stay with black families.
The host stays gave them a closer look at the everyday traditions in Zimbabwe. Gardner noticed that there is a stronger emphasis on the family. At dinner, the whole family would sit down and remain until everyone was finished.
All of them were introduced to sadza, a staple food in Zimbabwe. It is a ground meal made from maize, which is sort of like our field corn. It looks like mashed potatoes or cream of wheat, they reported. Usually it is eaten with meat and gravy, which they described as a sort of vegetable soup. "Sadza is pretty plain," said Marthaler.
"It's definitely something that you have to grow up with (to like)," added Gardner.
"One thing I'll remember is how kind and generous people were to us," said Marthaler. All three had host families invite them back to stay in their houses, which is convenient because all three young men said they'd love to return to Zimbabwe and visit again.
Ryan remembered one concert at a small parish out in the bush. The kids all had scrawny legs and bulging stomachs. "You could see that they were malnourished," he explained. After the concert, though, the villagers offered the group meat pies and fruit. "They gave us so much food. More than we needed," Ryan said. "It just amazed me how giving they were."
The On Call group is chosen through competitive auditions each August and two groups start practice in September. Around 60 students participated during the school year last year.
The summer tour group was comprised by members of these two groups. They started practicing for the summer tour in April.
Friends and family helped Gardner, Marthaler, and Ryan pay for the trip.
"I figured (the trip) would be an excellent chance to serve God and to grow in my faith," said Ryan, who wasn't disappointed as the trip fulfilled his hopes.
While he enjoyed sharing the message abroad, he realized there is just as great of a need here. "You don't need to go to some foreign country to share the Gospel," he explained. "There's a large hunger here in my city, in my state, for Jesus."
Gardner said he had always dreamed of going to Africa. He loved the beauty of the countryside and the night sky and was surprised that race relations appeared to be better in Zimbabwe than they were in Washington, D.C.
"It was so fun," said Marthaler. "No concert was ever the same, even though we did the same songs."
All three young men graduated in June from Paynesville Area High School and sacrificed their last summer in the area for the trip. Marthaler will start school at Ridgewater College in Willmar next week, and Gardner and Ryan will attend St. Cloud State University beginning in September.
---