Lost class ring found 31 years later
This article submitted by Linda Stelling on 8/18/99.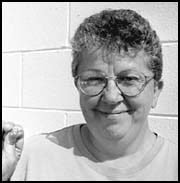 Thirty-one years ago, Marlene (Rothstein) Schlangen, Roscoe, lost her class ring. Last week, it was returned to her.

"I was visiting my parents near Kimball when they received a phone call from the school saying someone in Sartell had found my ring," Marlene said.

As a hobby, Cy Schaefer, Sartell, walks around construction sites with a metal detector looking for items. At the time he found the ring, they were tearing up streets in Sartell.

"He had cleaned up the ring and called the school looking for someone in the Class of 62 or 67 with the initials MR. The school went through the yearbooks and found I was the only MR in the yearbook in the Class of 67," Schlangen said.

Schlangen called Schaefer and gave him a description of the ring and found it was her ring which her husband, Ron, had lost before they were married.

"I had a hard time believing someone had found my ring," Schlangen said. "You hear of similar stories in the news, but never believing it could happen to you. It is awesome. The ring is in great shape, considering how many years it has been lost," she added.

Schaefer had told her that this was the first gold ring he had found in his search for metal objects.
---