Lindhs retire from Calvary Baptist Church
This article submitted by Aaron Ziemer on 8/18/99.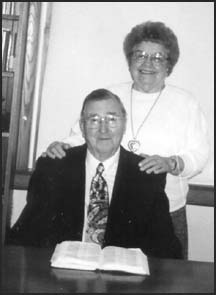 Calvary Baptist Church pastor Lindh is retiring. Lindh served the congregation for 28 years.

Lindh and his wife, Lucille, have been very active in the church and the area during their time in town.

Pastor Lindh not only served Calvary Baptist Church in Paynesville, he also served a protestant church in Manannah for many years.

He had a couple of radio shows at area radio stations. He was part of the Paynesville Ministerial Association, which meets monthly in different locations. He was also part of the West Central Ministerial Association, as well as volunteering time at the Good Samaritan Care Center and Koronis Manor.

Lucille has also been very active in the community. She started a Bible study group that meets once a week at the Paynesville Area Center. That group has been meeting for 27 years, shortly after they arrived in Paynesville.

"It is amazing that the group has stayed together as long as it has," said Lucille.

She helped start the Christian Women's Fellowship group that meets once a quarter.

She worked at the Good Samaritan Care Center in staff development. She is a registered nurse and has worked in other capacities as well.

The Lindhs have three adult children. Dan is president and ceo of Perspective Homes in St. Paul. Mark is now working making computerized wood products. Tom is a nursing home administrator in Lake City.

"We have talked about retirement for almost 12 years," said Pastor Lindh.

After retirement the Lindhs will be heading to Cambridge where they will be living at River Hills Village.

"I suspect I will probably be called to do pulpit supply," said Pastor Lindh. He will fill in to speak when a congre-gation's preacher is gone.

They recalled how much Paynesville and their church has changed from the time they arrived in Paynesville.

Calvary Baptist Church was only three years old when they came from Cottage Grove.

"The church started in the old steakhouse. The church was built in 1968, and eventually the steakhouse was torn down," said Lindh.

Paynesville has grown by 255 people since they moved into town, and the community has also added a new high school and hospital facility.

"We cannot say enough about the health facilities in this town," said both Lindhs. "It is great how such a small town has such excellent health care."

The Lindhs have also commented on how great the community has been to live in over the years.

"We feel like this community is our family," said the Lindhs. "The com-munity and school system really took our kids in."

Although they have a strong feeling of home and family in Paynesville the Lindhs feel they still should move to clear the way for the new pastor that will be brought into the Baptist church.

"We feel it is the right thing to do," said the Lindhs.

The Lindhs started out in south-western Minnesota in Russell. While Pastor Lindh served a congregation in Russell, Lucille worked in the Marshall hospital.

After serving in the southwestern corner of Minnesota they moved to the Twin Cities where he worked at a church in Cottage Grove, before getting the call to come to Paynesville.

"We really don't have any definite plans for retirement," said Pastor Lindh. "We may go on a short trip to Canada, but nothing very long or definite."

They added they have really been thankful for the kindness of the people and they will really miss the people and the community when they move.

"We have really appreciated everyone we have been involved with," said Lucille.
---