Throughout her life, Lenora Holper has had dogs, but her miniature poodle Milo is more than a pet. He is a hearing dog, trained to alert Holper to three specific alarms.

When she got Milo from Hearing and Service Dogs of Minnesota last December, Holper got to choose which three sounds she wanted her dog to respond to: the smoke alarm, stove timer, and alarm clock. She chose these because of her trouble hearing the range of pitches that they use. For safety reasons, it is important for her to hear the smoke and stove alarms, and knowing that she will wake up on time every morning is a relief, she said. (Holper had previously purchased a telephone with a low-pitch ring in order to hear it better.)

"Anytime he comes to (alert) me, he has to touch me," explained Holper, which often means nudging the side of her leg if she is awake. However, if she is lying in bed, Milo jumps on the bed, crawling over her until he is sure she is awake.

Before buying Milo from the organization for $10, Holper - a Paynesville native who graduated from PHS in 1938 - lived alone. One day a friend of the family walked in while she was sleeping in an easy chair and played a handheld poker game until she awoke a half hour later.

"I thought it was funny, but my daughter raised the roof," explained Holper. As an employee of the service dog organization, her daughter, Margaret Grondahl, knew about Milo. Concerned about her mother's safety, the 1977 PHS graduate suggested that she get the dog.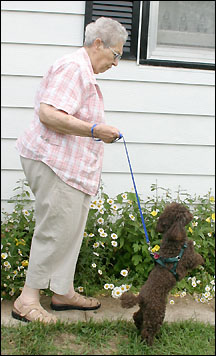 Since Holper's hearing has been deteriorating and is now 20 percent in one ear and 60 percent in the other, she qualified for a hearing dog, but she "wasn't too keen on it," she explained. At her daughter's insistence, she decided to try it, though, and said, "once I saw him, there was no giving him back."
Lenora Holper walks her hearing dog, Milo, which has been trained to alert Lenora to three sounds.
Milo's placement in Holper's home has produced a big change in both of their lives. When Hearing and Service Dogs of Minnesota was notified about Milo by a pound where he was being kept, his hair was so long that no one knew what breed of dog he was.
The organization, which picks homeless dogs to train, had Milo neutered and updated his shots. He was then placed in foster care until being brought to Holper's Paynesville home.
Holper enjoys having this "very sociable and very verbal" friend to greet her when she arrives home, she said, in addition to notifying her when a guest comes. Even though he has not been taught to respond to visitors, Milo "goes wild" when someone arrives, she said. The top of the love seat is her dog's favorite place, she added, because he can watch all happenings outside the window from there.
Holper was not the only one to warm up to the dog. A good friend of hers had been upset that she was getting him and one of her three sons wondered if having a dog again would be too much responsibility for her, she said, but both love Milo now.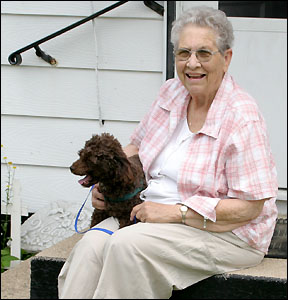 Milo stayed with Holper the first time he was brought to meet her, and her daughter was able to train him. Once a week for four months, the three spent time together so that Milo could learn the noises he needed to be aware of and the proper way to respond to them. Supervisors from the Minneapolis-based training program also came to observe a few times. Once his lessons were completed, Milo was videotaped as he was tested on identifying the three sounds.
Lenora Holper, who is hearing impaired, got Milo from the humane society in December and trained the poodle to alert her to three sounds.
Despite his successful training on the chosen sounds, Milo has been a handful for Holper. She doesn't know how old he is, because he came from a pound. Members of Hearing and Service Dogs of Minnesota guessed that he was about a year when they took him in, which would make him nearly two years old now. This makes sense because he has a case of the "terrible twos," according to Holper. Milo has emptied a box of tissues on the floor as well as chewed up her hearing aid when it was left on the table
The energetic dog has run away a number of times, and Holper has learned his favorite hiding spots around her neighborhood. When she finds him, he recognizes her car and usually comes to her. This is a good thing because, Holper joked, "this old lady can't catch him."
Milo also is acquainted with the police because of his escapades. Twice Holper has called them when the dog got away: once she could not locate him and another time she was afraid it was too icy for her to search.
Just in case, Milo has been equipped with the hearing dog organization's phone number on a tag around his collar and has a microchip implanted in between his shoulder blades with identification information. Such microchips are read by scanners, with which most animal shelters are equipped.
To prevent antics while she sleeps, Holper said Milo has to be kept in an inside kennel near her bedroom. This doesn't diminish his effectiveness, though. He has not needed to wake her up in the middle of the night for any of the three specified alarms, but when someone drove through the alley near her house at 4 a.m., Milo caused a ruckus. There was "no doubt about my hearing him," said Holper.
The dog recognizes Holper's voice but does not always choose to listen to it. Holper is grateful to have him as a friend, though, and pleased that he does listen to the things for which he has been trained. She summed up her feelings with "he's a nuisance sometimes, but I like him."
---
Contact the author at editor@paynesvillepress.com • Return to News Menu
Home | Marketplace | Community
---