Nearly three years ago, Levi Bundy, 20, went to the doctor with a sore throat, which led to the discovery of Hodgkin's Disease, a cancer of the lymph nodes.

Since then, he has undergone raditiation, chemo therapy, and a bone marrow transplant in an effort to cure his cancer, and he now faces a second bone marrow transplant.

Though the family's direct costs are paid by insurance, his illness and treatment has required lots of incidental costs to the family, said his mother Theresa, whose co-workers at the Koronis Manor have planned a benefit for the family.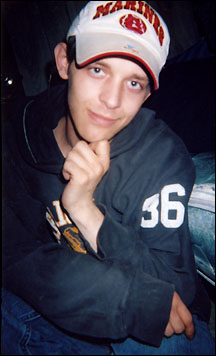 "She works very hard," said Carol Jack, a benefit organizer who works with Theresa as a nursing assistant at the Koronis Manor. "Everyday, she was pulling doubles."
"My heart goes out to them," added Jack.
Levi Bundy has battled Hodgkin's Disease since September 2002 and faces a second bone marrow transplant in the coming year.
Paynesville Area Health Care System employees held a garage sale to benefit the Bundy family last month, donating clothes and household items for the sale, said Jack.
This weekend - Friday, Aug. 19, and Saturday, Aug. 20 - two events are planned to benefit the Bundy family, who have lived in Paynesville for 12 years.
On Friday, Aug. 19, the band Maggie James will play at the American Legion from 8 p.m. to 12 midnight. The cover charge is $5, which will go to the Bundy family, since the band is donating their time. (Band member Mike Noonan works with Theresa Bundy at PAHCS, and band members Jean and Terry Nichols have been neighbors of the Bundys on Belmont Street for years.)
Concert goers are also asked to bring a nonperishable food item, which will be given to the Paynesville Area Community Service Center. This donation to the local foodshelf is a way to thank the entire community, said Jack.
On Saturday, Aug. 20, a sloppy joe dinner will be held at St. Louis Catholic Church from 6 to 9 p.m. with a menu of sloppy joes, potato salad, potato chips, baked beans, bars, and beverages. The cost is $5 per meal. A silent auction, with items donated by various businesses, at the benefit on Saturday, will also be held that night, with bids ending at 8 p.m.
"We really appreciate everyone helping," said Jack. "The whole town of Paynesville has been great."
When Levi's Hodgkin's Disease was discovered in September 2002, doctors told the Bundys: "If you're going to get a cancer, this is the one to get because it's so curable," said Theresa. "It hasn't been yet."
The first lymph node tumor was found in Levi's throat but now it has spread to the lymph nodes in his armpits, too.
Another bone marrow transplant is planned for Levi, who also might face another course of radiation before that, said Theresa, who expected to learn more details of his treatment schedule this week. If he needs radiation this fall, "it's back and forth everyday to the cities," said Theresa.
Levi underwent a bone marrow transplant last winter, using his own bone marrow. He did well for the first four weeks after this transplant, said Theresa, but then faltered.
After his next bone marrow transplant, Levi will need to stay in the University of Minnesota Hospital for three months, said Theresa, and then live within 15 minutes of the hospital for another three months. Then, for at least three months, they will need to rent an apartment in the Twin Cities. (After his last transplant, the Bundys had to rent an apartment in the Twin Cities for four months.)
Theresa will likely keep working while her husband Roy, a car salesman in Sauk Centre who has more flexible hours, spends more time with Levi in the Twin Cities.
This bone marrow transplant is more dangerous because it will use stem cells from an umbilical cord. Levi, one of four of Roy's and Theresa's children, will need to take anti-rejection drugs since foreign cells will be introduced to his body. It is "extremely risky and dangerous," said Theresa.
A hundred days after the bone marrow transplant, they should know what kind of chances Levi has for his Hodgkin's Disease to go into remission, said Theresa.
The best-case scenario would be that by next spring Levi's cancer would be in remission, she added.
In addition to the benefit concert and dinner this weekend, a fund has been established for the Bundy family at the Central Minnesota Federal Credit Union in Paynesville.
---
Contact the author at editor@paynesvillepress.com • Return to News Menu
Home | Marketplace | Community
---