Putting on a musical is like preparing for a wedding, said Charlene Strand, musical director of Annie: "You work and you plan, and you work and you plan, and then it's all over," she explained.

This "very successful production" was well worth the six weeks of work, though, according to Rheanne Zimmerman, who performed in the title role, as Annie, the red-headed orphan.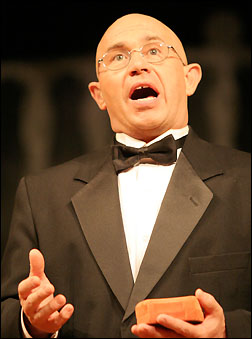 Five performances by the community theater program were held from Friday, Aug. 5, through Wednesday, Aug. 10, and total attendance topped 2,000. Strand felt honored by the response from the community to this culmination of six - or more - weeks of work for most of those involved. The large cast and staff, which also included Mike Noonan as Oliver (Daddy) Warbucks, was "proud to show off Paynesville's talent to the town," said stage manager Sami Tierney. In the end, besides getting to know the cast, Zimmerman said "the performances, through and through, were the highlight of it all."
"Annie" starred Rheanne Zimmerman in the title role of the red-haired orphan and Mike Noonan (right) as billionare Daddy Warbucks, and it was directed by Ian Pelton with Charelene Strand as the musical director.
"Optimism, when it prevails, is what we all need," said Strand, and hope for the future is an important theme in the show, which tells the story of an orphan named Annie searching for her parents. While facing the hopelessness of both an orphanage and the Great Depression, the upbeat 11-year-old sparks President Franklin Delano Roosevelt's New Deal, rescues the rest of the orphans, and learns about family when she is taken in by Warbucks. Warbucks, a billionaire, eventually adopts Annie, and Zimmerman said that "the end was always triumphant."
Annie first hit Broadway in the 1970s, though it is based on a comic strip from the 1920s. Winner of the 1977 NY Drama Critics Circle best musical award, Annie was popularized by a 1982 Columbia Pictures movie version. In 1999, Disney released its own take on the story.
Hits from the musical include "Tomorrow," "Easy Street," "Maybe," "You're Never Fully Dressed Without a Smile," "You Won't be an Orphan for Long," and "Annie," and it was amazing to see Strand "whipping everybody into shape with the singing," said Noonan.
Director Ian Pelton also deserves special thanks, according to Noonan, because he dedicated himself to directing, acting (he played Rooster Hannigan, who wants to kidnap Annie for a reward), and working on sets.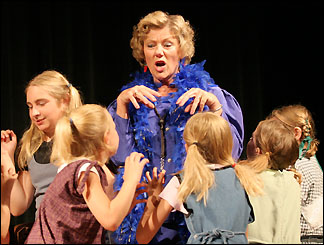 Pelton said, "I'm a cabinetmaker by profession, and I don't often get a chance to tell 30 people what to do." In fact, he did not tell them what to do, he claimed, explaining that he pointed them in the right direction and watched them go "completely crazy."
At right, Sheila Merrill, as Miss Hannigan, is surrounded by orphans.
For two scenes in which in the script did not require characters to take particular positions, he literally did that. In these scenes, one in a New York City shantytown and one in a radio studio, Pelton gave each performer a quirk to portray. Beyond stipulating that the lines had to be delivered in the correct order, he allowed the cast to deal with the characteristics in their own way, he said, which both he and they enjoyed.
Throughout the rehearsals and the show, the "professionalism everybody had" while getting into character impressed Noonan. Having the young orphans was great, said Strand, adding that their "sparkle was so magical." Everyone was to be commended, though, for coming from all parts of the community to dedicate their time, she said. This included coming early to practice and staying late, and she was echoed by Pelton and Tierney in sending out "a huge thank you to all the hands that touched us" as Annie came together.
Zimmerman - whose time as Annie has her saying one of the orphan's favorite lines, "Oh, boy!" in daily conversation - is "happy and a little bit regretful now that it's done." She has more time to finish her summer vacation, but will participate in another musical, if the opportunity comes.
That remains to be seen, said Pelton. He had planned to take next summer off from directing, but with "a grumble afoot to do some production," he will consider splitting the work with others in order to bring another show to town.
The community theater has brought major theatrical productions to Paynesville for the past three years, showing The Sound of Music in 2003 and Cinderella in 2004 before performing Annie this summer.
Annie - Cast of Characters
Orphanage
Annie: Rheanne Zimmerman
Miss Hannigan: Sheila Merrill
Molly: Teirrah Syvertson
Pepper: Jackie Skoglund
Duffy: Abbie Swenson
July: Briquelle Bowden
Tessie: Natasha Meed
Kate: Allie Stanger
Orphans: Chelsea Grandstrand, Ashley Beavers, and Kylie Bergman
Warbucks Household
Oliver (Daddy) Warbucks: Mike Noonan
Grace: Sharon Bergman
Drake: Lindsay Hull
Mrs. Pugh: Lindsey Pelton
Mrs. Greer: Caitlin Lien
Chauffer: Bob Fore
Cecille: Beverly Beavers
Butler: Hayden Spaeth
Servants: Kaitlin Burlingame, Karla Leitzman, Emily Mehr, McKenzie Quade, and Alyssa Tish
Mr. Bundles: Spencer Wander
New York City
Rooster Hannigan: Ian Pelton
Lilly St. Regis: Tami Stanger
Cop: Jim Beckstrand
Cop assistants: Hayden Spaeth and Andrew Swenson
Star-to-be: Kaitlin Burlingame
Usherette: Emily Mehr
Kid: Andrew Swenson
Judge Brandeis: Todd Burlingame
Hooverville
Sandy (dog): "Gordy" Fore
Appleseller: McKenzie Quade
Dog catcher: Hayden Spaeth
Assistant dog catcher: Andrew Swenson
Lt. Ward: Jim Beckstrand
Men: Dugan Flanders, John Merrill, and Michael Putzke
Women: Karla Leitzman, Marcia McCarney, and Emily Mehr
Sophie: Beverly Beavers
Eddie: Steve Swenson
Hooverville extra: Alyssa Tish
Radio Studio
Bert Healy: Dugan Flanders
Fred McCracken: Mike Putzke
Masked announcer: Jim Beckstrand
Foley artist: Hayden Spaeth
Wacky: Andrew Swenson
Stage Manager: Sami Tierney
Bonnie Boylan: Emily Mehr
Ronnie Boylan: Karla Lietzman
Connie Boylan: Lindsey Pelton
White House
President Roosevelt: John Merrill
Henry Morganthau: Jim Beckstrand
Francis Perkins: Marcia McCarney
Cordell Hull: Dick Butler
Harold Ickes: Steve Swenson
Louis Howe: Spencer Wander
Messenger: Hayden Spaeth
Director: Ian Pelton
Musical director: Charlene Strand
Accompanists: Amy Syvertson and Cindy Zimmerman
Stage manager: Sami Tierney
Assistant stage manager: Courtney Colbert
Sound and light technicians: Ian Pelton and Mike Putzke
Costumes/publicity: Colleen Pelton
Sets: Ian Pelton
Set Painter and Designer: Molly Zimmerman
Assistants: Lindsey Pelton, Hayden Spaeth, Robyn Spaeth, Ginelle Zimmerman, and Rheanne Zimmerman
Seamstresses: Marcia McCarney and Becky Thompson
Backstage helpers: Lisa Bowden, Patti Grandstand, Marsha Meed, Terry Skoglund, and Kathy Ziegler
Dog handlers: Bob and Kay Fore

---
Contact the author at editor@paynesvillepress.com • Return to News Menu
Home | Marketplace | Community
---