"I was pretty sad," said Sam Chevalier when relating her experience with the National Catholic Youth Choir. That comment was not in regards to the experience directly, though, but to the fact that she cannot go again.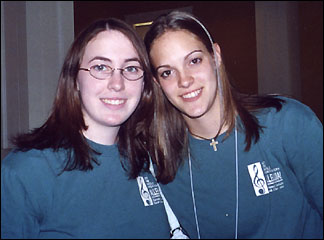 From the end of June until the middle of July, Chevalier - who will be a senior this year at PAHS - spent 15 days singing with 37 other high school students. After spending a week at St. John's University getting to know each other and working on the music, they toured in Minnesota, Wisconsin, and Michigan.
While at St. John's, the students spent six hours a day in rehearsal, Chevalier estimated, saying that "other than that, you basically ate and slept." They prepared 13 songs, which she sung alto for and had been practicing for about an hour and a half every day for two weeks before even arriving at the university.
Sam Chevalier (left, shown with a friend) recently toured the Midwest for two weeks with the National Catholic Youth Choir.
Dr. Axel Theimer, a choral clinican, worked with the students, who hailed from all over the United States but especially from the east coast. He directed them in Renaissance- and Baroque-style songs, chant, and in a modern song written by a contemporary Benedictine monk. Chevalier's favorite song was "Arise, My Love, My Fair One," a classical piece.
One monk at St. John's, the founding director of the choir, assisted with the chanting and led the students in sung worship each night before bed. The monk who wrote their modern song came to St. John's for a gathering and also spent a short time working with the choir, before they attended a Mass at which he presided.
After nearly a week at St. John's, living in the guys' dorms and practicing with Dr. Theimer and the founding monk, who Sam considered "both really crazy, but really fun to work with," the group began performing concerts.
Chevalier's favorite concert was the first, as it was held at St. Mary's Cathedral in St. Cloud, where her whole family, except two brothers, and some neighbors attended. "It was very comforting" to have familiar faces in the crowd, she said.
Then it was off on tour with the 38 students, eight counselors, monk, director, and an assistant. A few actually rode in a car because there weren't enough seats on the packed charter bus.
Combined Locks, Wis., - a city where six of the students lived, located near Appleton - was the first stop on the road trip. For each concert, the choir performed all of its songs and individual members sang solos.
Travel to the next stop, a town with the fun name of Kalamazoo, Mich., brought the group to their biggest crowd. It also meant that Chevalier "got to go through three new states in that one day," even though they didn't stop for her to explore either Illinois or Indiana.
Michigan, however, she got to know a little better, as they next sang in East Lansing, providing the music for a Mass and performing a concert, before returning to Kalamazoo to sing a Mass there.
They had been staying with host families while on tour, but then it was back to the dorms before they left again for a concert in Plymouth, Minn. A malfunction in the bus' air conditioning made the trip back from Michigan rather miserable, said Chevalier, and the students were "standing up to get some air flow," because the hot weather made the bus stifling.
One bad drive did not mar the experience, though, and Chevalier is very grateful for the opportunities it gave her. Lessons learned included "a lot about my voice and how to take care of it and how to not go flat or go sharp and not to push too hard," she said.
Beyond that, she learned about her faith and grew closer to God because she "didn't have family there to comfort me all the time" and instead enjoyed "a lot of quiet time."
A cool parallelism occurred when one night the group had quiet candlelit reflection in the church at the same time on the same day that Chevalier would normally be at adoration of the blessed sacrament at St. Louis Catholic Church.
Fireworks and a night of fun at Dr. Theimer's house capped off the two weeks. There was a talent show, featuring lots of singing, of course, including yodeling by the director. In addition to volleyball, ping pong, and laughter at the monk's expense - he was wearing thick wool socks in July - there was more music, beyond even the talent show. One surprise came when a student began playing the song "Seasons of Love" on the piano and others joined in singing. They discovered that about 25 members of the group, including Chevalier, had recently sang that song with their choirs at home. Throughout the two weeks, there were the songs the choir worked on together, songs familiar to many of the students, songs known to some, and some songs made up on the spot. Two of the students entertained Chevalier and others with their spontaneous improvisation sessions in which they imitated Stitch from the movie Lilo and Stitch and Mickey Mouse. Catholic youth going into their sophomore through senior years of high school can apply for the choir, so Chevalier will not be able to attend again, which she regrets. The experience was so enjoyable that one kid who will also not be eligible to attend again said he was going to reapply anyways. For Chevalier, who anticipates a career in music performance or youth counseling, the National Catholic Youth Choir was an incredible experience. "I feel so much bigger with my faith...and music, she said. "That's just a great combination right there."
---
Contact the author at editor@paynesvillepress.com • Return to News Menu
Home | Marketplace | Community
---