Winter opens massage therapy center
This article submitted by Linda Stelling on 8/16/00.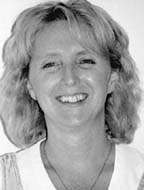 After working three years as a massage therapist at the Paynesville Area Health Care System, Terri Winter decided to open her own business. "I wanted to grow and learn more about business and running my own business," she said.

Winter opened Harmony Massage and Bodyworks on Highway 55, sharing the building with H&R Block.

Winter had worked for PAHCS over 21 years, first as a nursing assistant and then in physical therapy. "After seeing how beneficial massage therapy is for patients, a message therapist visiting the hospital encouraged me to take the training," said Winter.

Winter saw firsthand how massages helped ease pain for patients, especially those with cancer. "I found it a very rewarding experience. After doing a massage for my aunt dying of cancer, I felt the calling to become a therapist," she added.

Winter said by being on her own, she can feel freer to go into the spiritual end of massage therapy. She has remodeled the building next to the Black Saucer, creating a peaceful atmosphere for clients.

Winter is a member of the American Massage Therapy Association and is certified through the Northern Lights School of Massage in Minneapolis.

On graduation day she was told that her learning has just begun. Now three years later, she knows what the instructor meant. "A person is always learning new techniques. A person learns from each client as each person is different," said Winter. "It is unfortunate that people don't acknowledge the health care necessity of massage therapy," she added.

Winter said massage therapy enhances relaxation, eases pain, and assists the muscles to return to normal length and elasticity following a sprain or strenuous workout.

Harmony Massage and Bodyworks is open 7:30 a.m. to 6 p.m. Tuesday, Thursday, and Friday. On Wednesdays she will be doing home visits for the homebound in the hospice and nursing program. Call 320-243-4700 for an appointment.

A Paynesville native, Winter lives in Spring Hill with her husband. They have three children. Her interests include reading, camping, and riding horses.
---