Dr. Larry Strate joins PAHCS medical staff
This article submitted by Michael Jacobson on 8/16/00.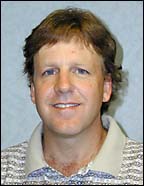 Dr. Larry Strate might have family connections to the area that go back to the founding of Paynesville, but he was lured here to practice medicine by very modern aspects of the community.

Calling Paynesville Area Health Care System organized, progressive, and physician-friendly, Dr. Strate relishes the opportunity to work and learn at a teaching institution where he can use the gamut of his medical skills. He enjoys clinic practice, in-patient hospital care, emergency medicine, and obstetrics.

Dr. Strate also stresses preventative medicine. "I like being fairly thorough," he explained. "I like to cover everything."

That approach is at least partially rooted in his past. For more than a decade, he worked in Minneapolis as an adolescent counselor. He helped with alcohol, drugs, and behavioral problems.

Eleven years ago, he wanted a different challenge and headed back to medical school. "I also knew what I did back then would help," he explained. "My experience in the past would be beneficial in medicine."

He attended the University of Minnesota Medical School and did his three-year residency at an inner-city clinic and 350-bed hospital in Milwau-kee.

"Night and day difference," Strate said, in comparing his residency to the integrated medical approach at PAHCS. At his residency, he spent considerable time coordinating services for patients. Now the various services of PAHCS are at his fingertips, or at least down the hall.

"There are a lot of services available here that you don't normally find in a small town, including physical therapy and Pharm.D.s," he said.

"It's a great health care system," he added. "The town is lucky to have it."

Dr. Strate has family ties to the medical profession, as well as to the Paynesville area. He said the Baitingers, early settlers of Paynesville, are distant relatives of his dad.

Both his father, Richard, and his uncle, David, have homes on Lake Koronis. Dr. Strate has been coming to the lake since he was a kid. His uncle's cabin has been in the family for 66 years.

As for the medical connection, his father was a surgeon and his grandfather was an ear, eye, nose, and throat doctor. Ultimately, Strate said, that connection did lead him to medicine.

Dr. Strate is the second of three new physicians joining PAHCS this summer. Dr. Heidi Malling started in July, and Dr. Clemma Nash will start in September.

Strate and Nash did their residencies in family practice together in Milwaukee, and Strate said she will be a great addition to the medical staff.

Dr. Strate will be splitting his time between Paynesville and Watkins. On Mondays and Wednesdays, he will be at the Paynesville Area Medical Clinic, and on Tuesdays and Fridays he will be at the Watkins Area Medical Clinic.

With Dr. Strate practicing in Watkins, Dr. Tim Malling will resume full-time practice in Paynesville.

• Dr. Larry Strate's hours at the Paynesville Area Health Care System were listed incorrectly in this story. Dr. Strate will be at the Watkins Area Medical Clinic on Tuesdays and Fridays. He will be at the Paynesville Area Medical Clinic on Wednesdays and Thursdays.

Out of the office, Strate's primary passion is playing guitar and singing blues and folk songs. He has performed publicly and taught guitar. He also enjoys sports, especially fishing, golf, tennis, and volleyball.

Strate and his partner, Mary Jo, have two daughters (Tanis and Tarin) and a son, Mason.
---