Congressman David Minge tours town
This article submitted by Michael Jacobson on 8/16/00.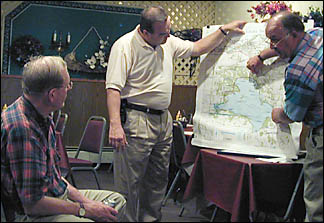 Congressman David Minge spent last Wednesday, Aug. 9, reacquainting himself with the far corner of his legislative district.

In the afternoon, Minge listened to Jeff Bertram and Don Pietsch, chairman of Paynesville Township, explain about the proposed bike trail around Lake Koronis.

A Democrat who has served four terms in Congress representing Minnesota's Second Congressional District, Minge represents Kandiyohi and Meeker counties as well as the city and township of Paynesville.

On Wednesday, Minge discussed health care issues with the doctors and administration at the Paynesville Area Health Care System (PAHCS), addressed members of the Paynesville Area Chamber of Commerce over lunch, toured three local manufacturing plants, saw the building project at the high school and discussed some education issues, and learned about the proposed pedestrian trail around Lake Koronis.

Before lunch, Minge also took side trips to Watkins, Eden Valley, and Albany, where he did a radio interview.

In addition to speaking at the Chamber of Commerce luncheon at noon, he toured three manufacturing plants: Stearns Manufacturing, Louis Industries, and Associated Milk Producers, Inc.

Minge is running for a fifth term in Congress in November. His Republican opponent is Mark Kennedy of Watertown.

Health care
Minge's day in Paynesville started at PAHCS at 7 a.m., where he met with around 20 doctors, department heads, and hospital board members. Minge, who had toured the facility a few years ago, started by listing some of his priorities for health care: making prescription drugs affordable, especially for seniors; raising employee wages at nursing homes; and reducing paper work requirements.

Prime concerns for PAHCS staff were how the government reimburses health care providers, increasing regulations, and an adversarial relationship toward health care.

The federal government controls Medicare and Medicaid reimbursement, which accounts for 30 percent of the clinic business at PAHCS and 50 percent of the hospital business. Hospital system administrator Willie LaCroix said the health care industry has paid a lot to help the government eliminate deficit spending. Now that there is a federal surplus, he thinks health care should be first in line to get some funding back.

One way to institute fairness would be to eliminate the regional disparity on Medicare and Medicaid payments. Dade County in Florida receives two and a half times the reimbursement rate for rural Minnesota.

Minge agreed that the disparity was unfair, but he warned that changing this might prove difficult because of the political clout of the regions that are favorably impacted, like Florida, New York, and California.

The federal government, according to Minge, has a real, trillion dollar surplus. While massive tax cuts are being suggested, Minge would like to spend half of the surplus on debt reduction, a quarter on priority programs, and a quarter on tax cuts. "Heaven knows we'd all like to see tax cuts, but we can't afford to do this until we support priority programs and pay the debt," he explained.

According to the hospital system's accounting firm, LaCroix said that a new program will pay only 85¢ for every $1 received previously. "We're going to be penalized right off the bat. Plus, we're going to do more paper work to get that 85¢," he said.

Citing his 35 years in health care administration, LaCroix said, "There's no fat in the system. Washington has to believe it."

Minge noted that the United States spends more on health care, per person, than any other country. The problem is how the money is spent. Citing the divisive health care reform effort of 1993, Minge does not expect any radical changes to health care in the next few years.

Related concerns included an adversarial relationship between health care and government, paper work taking away from patient care, and how to pay for capital improvements in nursing homes.

"Basically, you're looking at a system that doesn't want to pay you, doesn't want to take care of you," said Dr. Bob Gardner.

Gardner added that he had just looked at the new 14-page document required at the Koronis Manor. "If I had to fill that out on every patient, I'd close my doors tomorrow," he said. "It's nuts."

PAHCS has two registered nurses in the Koronis Manor who do paper work exclusively.

Dr. Tom Sult recalled that when he was in private practice he had three assistants: one medical and two for paper work. "That's the magnitude of the problem. You'd think that an institution like (PAHCS) would have a majority of people dedicated to health care," he said.

"We're always cutting on the front line, and, when I look at the bureaucracy, that cost doesn't change," agreed Lois Roback, head of the social work department.

What also bothered Sult was the increasing intent to criminalize paperwork errors. "Instead of asking 'Why would honest, hard-working people make mistakes?' they point a finger at you and say, 'You're going to jail,' and it's absolutely the wrong attitude," he said.

"It's not a person making a mistake," he added. "It's the system making a mistake."

Chamber of Commerce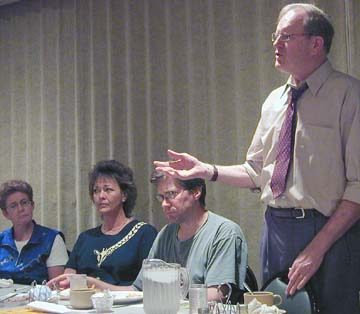 At the Chamber of Commerce luncheon, Minge directed his comments toward the startling difference between the overall economy and the farm economy. Nationally, the economy is as robust as it's ever been, he said, and there has been the longest continued growth of economy in history.
Except for sugar and peanuts, Minge said "the rest of agriculture seems to be almost in a free fall."
"I can't remember the price of corn being so low," he said. "If you adjust for inflation, it's even lower."
While acknowledging the unfairness of some of the existing farm programs, notably for dairy, Minge said that making changes is controversial and complex. Once again, some of the states that benefit have significant political clout.
Minge suggested that more emphasis be placed on conservation practices. Not just withdrawing land from production, like the federal government does through its Conservation Reserve Program, but rewarding lower yield practices like no tilling, terracing, creating buffers, and restoring wetlands.
One benefit to a conservation-oriented approach, Minge felt, would be support of urban voters, who might see value in it. "If we can't convince the urban area that farm programs are important to them, aside from lower food prices, then we're going to have a tough time getting support," Minge said.
During a question and answer session, Minge was asked about taxes, term limits, Third World debt, gas prices, and the proposed partial birth abortion ban.
School funding
Minge took a tour of the auditorium and fitness center building project at the high school with school board chairman Pat Flanders and high school principal John Janotta.
Then they went to the high school computer lab to talk about what Flanders referred to as a gap in the funding process. "This is an integral part of education these days," said Flanders, pointing at the outdated computers in the lab, "and there's no funding for it."
Most of the school's funding comes from the state, but the federal government does provide funding in certain areas, like special education and food programs. Flanders urged for similar funding for technology, saying schools needed yearly appropriations that they could count on with no strings attached.
The school has tried grants, but has not had much success. Flanders said to be successful it appears you must be willing to give 20 percent of the grant to a professional grant writer.
"We need a new lab," he told Minge. "We need two new labs in the worst way."
The school board would eventually like to have two computers in every classroom, but Flanders said they had no clue on how to accomplish this long-term goal.
Janotta raised the issue of teacher shortages, especially in mathematics, science, and industrial education.
Traditionally the school has received 30 to 40 applications for each opening on its teaching staff. Five years ago, they had 34 for a high school math position, but this year they had only five. "It's dried up," Janotta said.
Janotta suggested some sort of scholarship program may be needed to lure more people to the profession, but admitted "it's something that if we reacted now we would be four years too late."
Lake Koronis Trail
Late in the afternoon, Minge met with the trail committee that is organizing to build a pedestrian trail around Lake Koronis.
Paynesville Township Supervisor Don Pietsch and Jeff Bertram, who the township has hired to spearhead the project, gave Minge an update of the project before the committee took a driving tour around Lake Koronis.
The trail discussion started with how to get kids safely from Paynesville to the city's beach on Lake Koronis. Then it grew to a pedestrian trail around the lake.
The township has acquired County Road 124 from the county, when it became apparent that they would not be willing to support a trail beyond putting wider shoulders on the road.
Bertram, who helped Minge organize his visit to Paynesville, said the committee has had casual conversations with some landowners around the lake. "We don't want to go on the road any more than we have to," he explained. "Otherwise, it's going to be the most boring trail in the state of Minnesota."
Bertram also noted some opposition to the trail, but said he felt it was more on the possible location of the trail than to the concept in general.
Minge, a biking enthusiast, called the trail a great idea and referred the committee to his colleague in Montevideo, where Minge has lived for 20 years, who organized a 12-mile trail there.
Minge said that federal funds could be difficult to get unless a compelling case was made. One way to do that, he said, is to make the trail a real destination and have points of interest. Another way is to connect the trail to a larger trail system. The Lake Koronis Trail potentially would do both of these. Plans call for the trail to be linked to the Glacial Lakes Trail that runs from Hawick to Willmar. Also, the trail would connect with Veteran's Memorial Park, which is a popular swimming spot, and Lake Koronis Regional Park, which has a large campground where recreation lovers might stay.
Minge wondered if undeveloped areas like Kruger's Pond or Mud Lake could be utilized for bird watching. Another attraction could be Indian mounds, which exist in several locations around the lake.
---