First responder earns award
This article submitted by Michael Jacobson on 8/16/00.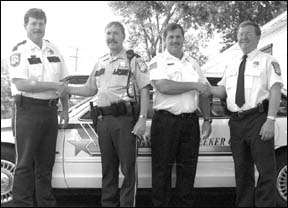 Paynesville firefighter and ambulance corps member Tom Fordyce considers his actions on June 13 to be routine, but they were recently recognized as being heroic.

With more than ten years as a first responder, Fordyce has seen his share of accidents and has learned what to do in emergency situations.

Tom Fordyce (second from right) received his Award Service Certificate from Meeker County Sheriff Mike Hirman. A left, chief deputy Jeff Norlin congraulates deputy Greg Magner, who received the Life Saving Award. Photos courtesy of the Independent Review, Litchfield.

As the building and grounds supervisor at the Atwater-Cosmos-Grove City Public Schools, Fordyce was at a school in Grove City, when a summer worker arrived and told him about an accident in the area. Fordyce called 911 and then headed to the scene himself.

At the scene, he met Deputy Greg Magner of the Meeker County Sheriff's Department. A lone vehicle had crashed and rolled. Fordyce assessed the condition of the driver, who was in the wreckage, locating a weak pulse and determining the driver was semi-responsive.

Fordyce decided to wait for help, but moments later the driver stopped breathing. Since it was impossible to render CPR in the cramped quarters of the vehicle, Fordyce and Magner carefully removed the driver from the vehicle.

As soon as the victim was out of the vehicle, Fordyce explained, the victim started to breathe on his own.

"Had these people not responded and assessed the situation quickly, and acted in an expeditious manner, the death of the driver is highly likely to have occurred," concluded Meeker County Sheriff Mike Hirman in a news release.

For their efforts, Hirman recently recognized Magner and Fordyce with awards. Fordyce received an Award Service Certificate and Magner received the department's Life Saving Award.

Fordyce, who is a native of Atwater, has served on the Paynesville Fire Department for six years and on the Paynesville Ambulance Corps for four years.

Previously, he served on the Atwater Fire Department for four and a half years. He moved to Paynesville in 1991.

Fordyce's wife, Karen, attended the awards ceremony with him.
---