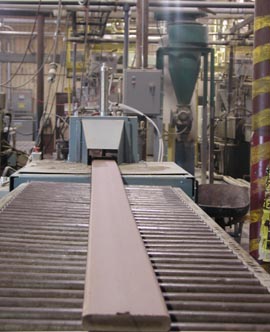 For the past eight months, the Master Mark plant in Paynesville has been busy turning out a new composite decking and railing system under the trademark, Rhino Deck.

Master Mark Ð which uses recycled plastic in its manufacturing process Ð has always had a line of lawn and garden products, including black landscape edging, lattice, and fencing.

Master Mark's Paynesville plant can produce 40,000 linear feet of the new decking per day and 260,000 pounds of it in a week. Production is increasing as fast as new lines can be installed.

The Paynesville plant was converted from the manufacture of black landscape edging to Rhino Deck late last year, said plant manager Randy Pflipsen. They started manufacturing the decking components in January.

The company has had composite decking for several years, said Pflipsen, but this is the first year of a whole system: posts, smooth or wood-grain boards, railings, and balusters.

The company has also marketed the new product within the building industry and with the public.

Advantages of composite decking include splinter-free decks, a slip-resistant surface, a 10-year warranty, and a product made of recycled plastic and wood. "That's one of our selling points," said Pflipsen. "It's made of 100 percent recycled material."

The decking comes in three colors: acorn brown, barn wood grey, and northern cedar. It needs neither painting nor staining, and the company claims it installs like traditional wood.

The Paynesville plant - which employs 80 people - makes 40,000 linear feet of the decking per day and 260,000 pounds of the decking per week, said Pflipsen. They have shipped 200 semi-loads of Rhino Deck, but are behind by 60 semi-loads as demand is faster than production.

So far, four manufacturing lines have been installed at the Paynesville plant, which makes all the Rhino Deck. More will arrive as fast as the lines can be built themselves, said Pflipsen.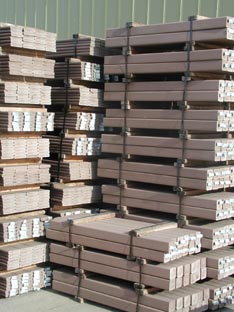 Next year the company hopes to do even better, added Pflipsen. The company's goal is to sell $25 million worth of Rhino Deck next year, said Pflipsen, and may need to add another building in Paynesville in the near future.
The Paynesville plant also washes and grinds all the recycled plastic for Master Mark. The company recycles more than a billion plastic bottles each year, more than 50 million pounds, said Pflipsen.
Master Mark has been manufacturing its new composite decking - Rhino Deck - from its Paynesville plant since January.
High density polyethylene plastics Ð such as milk jugs, laundry detergent bottles, and shampoo bottles Ð are used to make the composite decking. The caps on pop bottles are used by the company to make lattice, and the plastic from actual pop bottles is sold for the manufacture of carpet.
Master Mark was started in a garage in Albany 35 years ago. Today the company operates plants in Albany and Paynesville. It recycles plastic from the five-state region (Minnesota, Iowa, Wisconsin, and the Dakotas) plus Illinois and beyond.
---
Contact the author at paypress@lkdllink.net • Return to News Menu
Home | Marketplace | Community
---