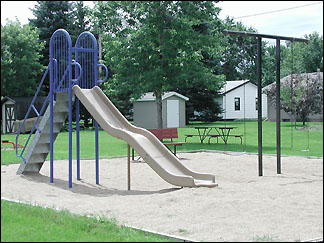 The city of Paynesville recently approved a new subdivision ordinance that outlines design standards for new developments and includes a requirement for developers to contribute land for public recreation.

At right, the public park located on South Street is an example of how public recreational space may be used.

"Parks and other recreational facilities are a big part of our community," said city administrator Steve Helget.

"We want to ensure that we continue to have adequate recreational facilities, and this is one way of doing that," he added.

As new developments bring more families into the community, more use is put on existing parks, which creates the need to expand existing facilities or create new ones, explained Helget.

The amount of land a developer must contribute for public recreation is based on the size and density of the development. A typical residential development of ten units or less per acre will be required to contribute eight percent of the total area for parks, whereas more dense developments, such as apartment complexes, will contribute ten percent, and commercial and industrial developments will contribute only three percent.

If the land is not large enough to build a park, or the city council would like to build a park in a different area, the council has the authority instead to require funds equal to the amount of land that was to be contributed. The money may then be used to purchase new land, build new facilities, or expand and upgrade existing facilities.

Although the contribution of land for public recreation is new to our city's ordinance, many other communities have similar requirements, according to Helget. Most land developers already have the cost built into their project, he added.

If it is determined that stormwater holding areas are required in a new development, the size of such areas is subsequently subtracted from the area required for public recreation.

The new subdivision ordinance also outlines the platting process and procedures for every plat in the city. This will assure that public improvements such as streets, utilities, and drainage are constructed to satisfactory standards, said Helget.

The new ordinance basically amends the splitting of lots and puts it into the form of an ordinance, he explained. The old ordinance was not nearly as detailed.

"We're simply putting it down in writing. Before it was never in an ordinance format," said Helget.

The ordinance was written such that platting is consistent with the city's official zoning map, zoning ordinance, and comprehensive plan.

"Basically, we're following what the county requires," said Helget.

Anyone who wishes to develop land in the city of Paynesville must submit the plan in three stages: a concept plan review, a preliminary plat, and a final subdivision plat.

The concept plan is sketched out and reviewed informally with city staff, and, if necessary, the city of Paynesville's Planning Commission. Both the preliminary plat and the final plat need to be reviewed by the planning commission, may be reviewed by engineers, and must be the subject of a public hearing before being considered for approval by the city council.
---
Contact the author at editor@paynesvillepress.com • Return to News Menu
Home | Marketplace | Community
---