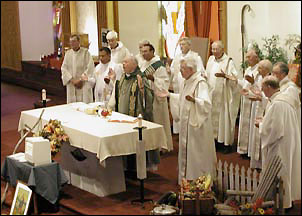 Father Richard Leisen, who served as the executive director of Catholic Charities of the St. Cloud Diocese from 1965 to 1987, was honored on Sunday as the first recipient of the inaugural Father Richard J. Leisen Award.

At right, Bishop John Kinney leads the prayers during a special mass for the Rural Life Celebration on Sunday afternoon at St. Louis Catholic Church.

Leisen received the award during a special mass with Bishop John Kinney at the Rural Life Celebration on Sunday afternoon at St. Louis Catholic Church in Paynesville, where Leisen has served since stepping down as the executive director of Catholic Charities in 1987.

Steve Bresnahan, the current executive director for Catholic Charities, presented the award to Father Leisen, saying it would not be possible to list all the ways that Leisen had helped the organization and the community through his work. "His manner, his method, and his love of God continue to this day," said Bresnahan, before giving Leisen the award, "thanks to the 40 programs started (during his 22 years as executive director)."

The award, which was kept secret from Father Leisen, caught him somewhat by surprise. "I was surprised," he reflected on Monday. "I did get a couple of cards in the mail, so I knew something was in the wind. But it was still very impressive."

On Sunday, he was visibly moved by the award and the three standing ovations from the audience of nearly 250 people. "You could tell he was very touched by it when he spoke," said Bresnahan in a phone interview, also on Monday.

After receiving the award on Sunday, Father Leisen explained how the bishop had assigned him to Catholic Charities in 1965, telling him that the church had no position as pastoral as working with charity. He said his call, work, and success at Catholic Charities was really due to "the grace of God and the help of many, many wonderful people."

Bishop Kinney called it a well-deserved award. "Long before I came to the St. Cloud Diocese, the name I heard over and over and over again was the name of Father Dick Leisen and his work with Catholic Charities and the needy, not just in this diocese."

Bresnahan said the board of Catholic Charities had considered establishing an award to recognize people who have supported the development of communities and the promotion of family life, in accordance with the mission statement of Catholic Charities. When the Rural Life Celebration, which was sponsored by Catholic Charities and the St. Cloud Diocese, was scheduled for St. Louis Catholic Church, the timing was perfect to honor Father Leisen "because in his 22 years as the executive director of the organization he exemplified that kind of spirit and commitment."
Building Catholic Charities

Father Leisen grew up in St. Cloud and attended the Krosier Seminary in Onamia and St. John's University, where he studied theology. After five years as an assistant priest in Pierz and two years at his home parish, St. Mary's Cathedral in St. Cloud, he earned a master's degree in social work from Fordham University in New York City. While in New York City for two years, he worked in Harlem for Catholic Charities and at the Kings County Hospital.

As he was finishing his degree, the Second Vatican Council, which had met since 1962, was meeting for the last time and beginning to issue recommendations to get the laity better involved in the church. As a result, worship services were changed from Latin to English and the priests no longer turned their back to the parish when preparing the sacraments.

While charity had always been part of the church, the Second Vatican Council gave it new impetus, explained Father Leisen.

For his first two years as director, he also served as parish priest in Luxemburg, a small parish, but as his work grew at Catholic Charities he worked there full time.

The St. Cloud Diocese covers 16 counties in central Minnesota, from Sherburne County east of St. Cloud to the Dakota border. It now includes nearly a half million people, according to Bresnahan.

During Leisen's 22 years as the executive director, Catholic Charities grew from having an annual budget of approximately $300,000 in 1965 to over $6,000,000 in 1986.

In 1965, Catholic Charities started the foster grandparent program and opened an office in Alexandria. In 1968, the first board of directors was created. Senior Dining started in 1974, the same year that another branch office opened in Wadena. (A third office opened in Fergus Falls in 1977.) In 1979, St. Elizabeth's Home was opened.

In 1975, Catholic Charities organized 55 sponsors, who sponsored 325 refugees, mainly from Vietnam. Over the next ten years, they helped over 1,400 refugees, said Leisen.

Leisen's work with the refugees particularly impressed Bresnahan, who noted that Leisen opened his home to refugees, as well as helping them professionally. "In his personal life, he served people just as much," he said.

Father Leisen lived at the St. Cloud Children's Home for 18 years. Even after retiring as executive director and returning to parish ministry, Father Leisen has stayed active, serving as the director of Catholic Relief Services until last year. In all, he was the director of the international arm of Catholic Charities for 33 years.

His work with Catholic Charities and Catholic Relief Services has taken Father Leisen around the world: to Egypt, India, Guatamala, Nicaragua, Honduras, West Africa, and the Philippines.

Leisen attributed the success of Catholic Charities during his tenure to the support of the bishop, to the help of the laity, and to the people who were brave enough to come forward with a need.

He is most proud of the award because of how it may cause people to take a second look at priests. "I especially feel pleased that some might see the priesthood in a different light," he said. "That's what's near and dear to me."
Rural Life Celebration

The Rural Life Celebration on Sunday, in addition to the mass, featured a program, a free hog roast, and children's games.

Jan Brinkman, a member of St. Louis Catholic Church who grew up on a small dairy farm and still lives on a working farm near Paynesville, gave a 20-minute talk about farming and the history of farm life.

Brad Wentz , a soil conservationist with the Stearns County Soil and Water Conservation District in St. Cloud, also gave a talk about farming methods during the program.
---
Contact the author at editor@paynesvillepress.com • Return to News Menu
Home | Marketplace | Community
---