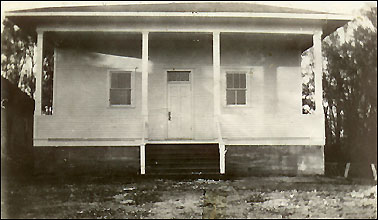 Irving District #92 will hold an all-school reunion on Saturday, Aug. 17. A potluck dinner will be held at the Irving Township Hall at noon for all who are able to attend. People are asked to bring food and chairs.

Pictured at left is the second one-room schoolhouse, which was turned into a town hall, and has since burned down.

According to Mae Seeland, who attended the school from 1932 to 1939, the purpose of the reunion is to see how many people are still around who attended the old school.

People are invited to bring pictures to share. A picture gallery will be created by Carol Otteson, who attended the school from 1939 to 1946. Otteson, who later graduated from New London High School, remembers her first teacher, having a wood furnace in the schoolhouse, and using wood and coal to heat the school.

District #92 was a one-room schoolhouse, like many others in the area, with eight grades. Students either stopped their education after the eighth grade or went on to high school in either Paynesville or New London.

District #92 was organized in 1892, and the school opened in 1893. The first one-room schoolhouse measured 18 feet by 16 feet and was 10 feet high. It was finished just in time for one month of school the first year, which began on July 3, 1893.

It is not known what happened to the first schoolhouse, but a new schoolhouse was built and used until 1959, when the district consolidated with the New London School District. The second schoolhouse burned down in 1991, according to Doris Nygaard, whose husband Clifton attended school at District #92 from 1935-1942.

Clayton Larson, who attended District #92 from 1943 to 1950, is in the process of researching the history of the old schoolhouse and hopes to present some information about his historical findings at the reunion.
---
Contact the author at editor@paynesvillepress.com • Return to News Menu
Home | Marketplace | Community
---