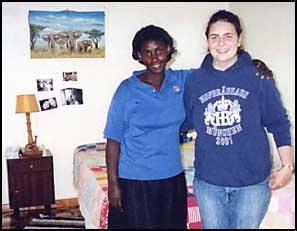 Megan Nyffeler - a 2000 graduate of PAHS who will be a senior this fall at Northwestern College in St. Paul - spent her summer vacation in the mountains of Kenya, learning about Africa, participating in a mission, and gaining valuable medical experience.

Megan Nyffler (right) with her housekeeper in her apartment in Kenya.

Nyffeler, who will graduate in May 2004 with a double major in biology and psychology and plans to attend medical school, became interested in visiting Kenya through a Kenyan-American friend at college and heard that it would be a great chance to get medical experience.

Nyffeler figures that actually working and seeing how hospitals work will help her get into medical school. "It's one thing to have good MCAT scores and a good GPA; it's another to have experience," she said.

She's also hoping her musical experience - including playing in the orchestra two years at college and in the band three years - will help her get into medical school.

After some searching, she found Africa Inland Mission, a mission program that takes only undergraduate students. They linked her with the Riff Valley Academy, a missionary school where she could work in the infirmary. What sealed the deal for Nyffeler was that she could also observe procedures at the nearby mission hospital.

The school is located near Kijabe, which is a 45-minute drive southwest of Nairobi, Kenya's capital city. Since it is in the mountains, at an elevation of 7,200 feet, it reaches only the high 70s on hot days and drops to the 50s at night.

Nyffeler said it is a nice drive from the capital to the school, in spite of the horrid roads. The clay-based, steep roads get especially slippery whenever it rains, said Nyffeler, who can get car sick just driving across campus in St. Paul, but managed in Kenya.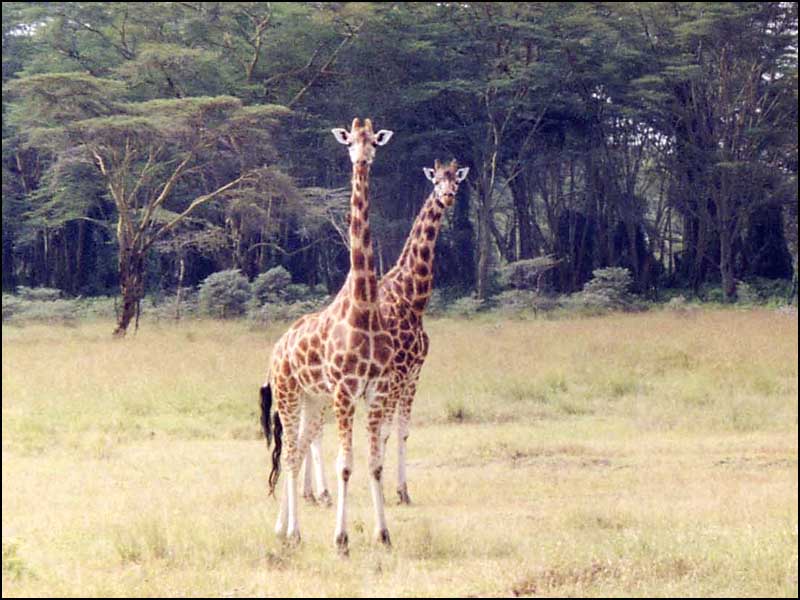 Nyffeler - whose only previous travel abroad was a trip to Costa Rica with her high school Spanish class - spent two days at an orientation session in New York in May with seven other volunteers before flying from Newark to London to Uganda to Kenya. The trip took 30 hours, with a 14-hour layover in London.
Normally, you can fly direct from London to Nairobi, but just days before she left a terrorist alert prompted western countries to cancel commercial flights to Kenya.
During her two-month trip to Kenya this summer, Megan spent most of her time working at a mission school and mission hospital, but she did have a chance to do some sightseeing, including seeing these giraffes at a Kenyan game park.
Nyffeler said she was willing to take the chance of traveling to Kenya despite the alert and did not want to say to herself: "Oh, well, just don't do it."
At the school, Nyffeler lived in an apartment below the seventh grade girls' dormitory. She said it was interesting to listen to the girls, especially on Sunday, their day off, when the girls would make up games all day to entertain themselves.
Her apartment had a phone (that worked great for intracampus calls but not so well for calling home) and electricity (though outages were common). The first time the power went out when Nyffeler was in Kenya the woman she was talking with just kept talking in the dark!
For food, Nyffeler could buy plenty of familiar American products at the small grocery store at the school. Twice a week, local women sold fruits and vegetables at the school, and Nyffeler could eat lunch in a restaurant for $1 a meal and supper for $1.50 a meal.
The school had around 500 students in grades 1-12. Of those, 75 percent were the children of missionaries in Africa. Another 10 percent were Koreans, who also have lots of missionaries in Africa. Five percent were Europeans, and 10 percent were nationals, typically kids from the richest families in Kenya.
The students were a little younger than Nyffeler, and as missionaries they had a great ability to attach themselves and detach themselves quickly, she said.
One of her favorite weeks was alumni week, when recent graduates - more her own age and mostly attending colleges in the United States now - visited the campus. For three weeks, Nyffeler shared her apartment with a young woman who graduated two years ago and was now attending college.
Nyffeler helped in the school infirmary, drove injured kids and errands to the hospital, went on health care patrols to villages, and observed surgeries two times at the hospital. She watched her first birth, by Caesarean section, a leg amputation, and a gall bladder removal. That gall bladder was so full of stones, said Nyffeler, that she now completely understands why medical textbooks here are full of pictures of acute cases in Africa and the Third World. In the West, cases are usually treated so early that the most graphic cases are found in places like Kenya. "I saw things that I would never have been able to see here," she said.
Still, by the end of her two-month stay, Nyffeler was comfortable enough with the medical services at the mission hospital that she had a minor elective procedure done herself. It was not free, she said, but was incredibly cheap.
The trip cost Nyffeler - who returned in mid-July - around $3,000 for the flights, housing, and other living expenses, but she sees that as an investment in an eye-opening experience.
---
Contact the author at editor@paynesvillepress.com • Return to News Menu
Home | Marketplace | Community
---