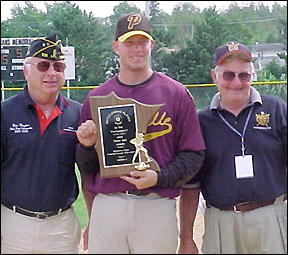 Paynesville's American Legion baseball team swept three games over the weekend in Ely to win the Division II state title.

Paynesville will now advance to the national tournament in the Central Plains Region in Viroqua, Wis. Paynesville will play their first game in the eight-team, double-elimination tourney - featuring teams from Iowa, Minnesota, Kansas, North Dakota, South Dakota, and Iowa - against Westby (Wis.) on Thursday at 5 p.m.

Adam Kampsen was given the tournament's most valuable player award at the end of the tournament in Ely.

Paynesville was playing in their fourth state tournament in American Legion baseball in the past seven years and fifth overall (including Paynesville's first state appearance in Legion baseball in 1953). Paynesville was third in 1997 in Virginia, second in 1999 in Ely, and third in 2000 in Truman.

This year, Paynesville beat Jackson 10-7 on Friday, beat New York Mills 3-1 on Saturday, and beat Nashwauk-Keewatin 15-5 in five innings on Sunday. (In that win, Paynesville avenged their 1999 loss to Nashwauk-Keewatin in the title game by the score of 4-3.)

The team also won the sportsmanship trophy for the second time in the past seven years. This trophy represents exemplary behavior, on and off the playing field. "Winning or losing is one thing," said coach Brad Skoglund, "but we're really proud to get that sportsmanship trophy."
Upon returning to Paynesville on Sunday night, the team was escorted to the high school baseball field by police, fire, and ambulance vehicles. In addition to parents and friends, American Legion members and civic leaders greeted the team.
"Post #271 is very pleased to have you as our baseball team," said post commander Larry Alstead.
Paynesville's Legion team celebrated Sunday night at the high school baseball field after winning the state championship.
Mayor Jeff Thompson said he was especially impressed by the team's sportsmanship trophy. "It's always nice when good things happen to nice people, and Brad Skoglund is about the nicest person I know," he said. If half of his personality can rub off on the team, it would be pretty good, said Thompson.
A crowd of 150 people greeted the team at the field in the informal welcome home ceremony. "This means a lot to us," Adam Kampsen, the tournament MVP, told the crowd on Sunday night. "We want to thank you."
With the team entering regions as the third seed, Kampsen said he was not very optimistic about their chances. "I guess I didn't know myself or the team very well," he said, after winning a state title.
To earn MVP honors, Kampsen had nine hits in 13 at bats in three games, including three homers, and he knocked home 13 runners and scored seven runs.
---
Contact the author at editor@paynesvillepress.com • Return to News Menu
Home | Marketplace | Community
---