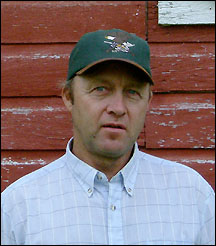 One summer day, when Steve Hislop was still a child, his parents realized he was missing. But their worries subsided when they realized the dog and his little red wagon were also gone.

"I decided to walk over to the farm without telling them," said Hislop, who has now been in charge of that farm for close to 30 years. "I started farming it right out of high school. I guess I just enjoy being out there."

The farm - located two miles south of Lake Koronis - has now been in the Hislop family for 100 years, since Hislop"s great grandfather, John Thomas Hislop, Sr., purchased 100 acres for $4,800 in 1903. The farm came with some lakeshore property that would be worth a lot of money today, but instead of holding onto it, Hislop"s great-grandfather gave it away.

"He said 'What do you want that worthless land for?" He didn"t want to pay taxes on land he"d never use." said Hislop.

One of the farm's most eventful years was 1927. In addition to Hislop"s grandfather taking over the farm, the house burned down.

"Luckily everyone got out," said Hislop. "The neighbors came over and put up a garage the next day, and they lived in there "til the new house was built."

Naturally, work on the farm used to be done by only horses. Shortly after Hislop"s grandparents took over, they bought a little D2 Caterpillar, which was the first machine to be used on the farm.

"Even my grandfather would be quite amazed how farming has changed, just since he started," said Hislop. "The yield is much higher because of the plows and tractors used these days. You used to be happy if corn made 50-60 bushels an acre. Now you"re pretty disappointed if you don"t make over 100."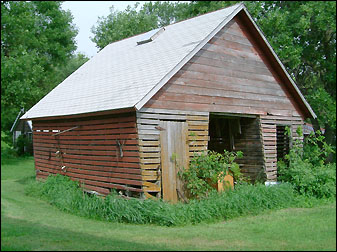 The farm's land totaled 100 acres before Hislop's father bought an additional 60 acres in 1952. But even before that, Hislop's grandfather built a corn crib that could hold 700 bushels of corn, even though the yield was much lower and a lot of corn was used for silage. "People thought he was crazy because his farm would never grow that much. Now you wouldn"t even get six acres of corn in there," said Hislop.
The once infamously humongous, and now insignificantly diminutive corn crib.
Other characteristics of the farm that have changed are that Hislop no longer has cattle, the farm has no pastures and many more trees, soybeans are grown instead of oats and wheat, and rock piles are hauled away instead of scattered throughout the fields. In general, Hislop says farming requires a much higher income to stay in operation.
"Years ago, a thousand dollars was enough to live on," said Hislop.
When the barn was put up in 1912, his family paid a bricklayer $36 for laying three three-foot walls. Somebody else came to notch and cut the lumber to the right length, and a different crew came to put all the pieces together.
A rare trait of the barn is that it still retains all four decorative glass balls which sit atop the barn"s lightning rods. "That's the only barn I've ever seen with all four glass balls left on top," said Hislop. "It used to be a prank for kids to shoot those out, and now there aren't many left."
Since the farm no longer has livestock, the barn is currently used for storing wood and drying furniture lumber, which Hislop makes during the winter months.
Hislop hopes the farm can stay in the family. "Hopefully some day a nephew or something will own it," he said. "I've driven all over the U.S., and I still like it here."
---
Contact the author at editor@paynesvillepress.com • Return to News Menu
Home | Marketplace | Community
---