Japanese girls learn about American culture
This article submitted by Linda Stelling on 8/11/98.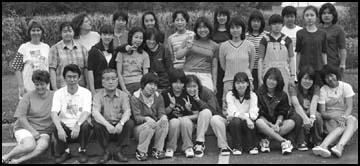 Twenty-two 16 and 17-year-olds girls from the Kugenuma Girls High School at Kugenuma, Japan, have been studying American culture in Minnesota.

The girls are here through the Pacific American Institute, a program fostering cross-cultural education and commun-ication.

The girls are spending July 29 to Aug. 14 staying with host families in Paynesville, Richmond, and Cold Spring. Classes are being held at the Alano Building in Cold Spring.

Among the host families are Cecil and Mary Louis, Steve and Hong Danner, Denny and Cheryl Curran, Rich and Bridget Felling, Nick and Lisa Demuth, Tom Kollmann and Peggy Ryan.

Teaching the American culture and English classes are Kathleen Sogge, Paynesville, and Valery Hansen, Cold Spring. Cheryl Curran, Cold Spring, is coordinating the program.

The girlsí escort/interpreter is Fukuda Shizuo. Their Japanese teacher, Yasuriro, accompanied them on the trip to Minnesota. Shizuo stressed this was their eighth year of taking part in the program. ďEvery year the classes are held at a different area in Minnesota,Ē he added.

The girls attend classes every morning and do various activities in the afternoon. Among their activities have been shopping at Crossroads in St. Cloud and the Mall of America, visiting the Walker Sculpture Gardens and Minnesota Capitol, Munsinger Gardens in St. Cloud, and attending a Twins baseball game.

During their stay, they also held a Minnesota Day where Jeremy Sogge and Brian Hartmann of Paynesville fixed venison and walleye for their noon meal.

They have held holiday parties... Valentines and Easter, Thanksgiving and Christmas. To celebrate a winter event, the Japanese students headed to the National Hockey Center at St. Cloud State University. On another afternoon, they headed to the Becker Center for an afternoon of swimming.

Yasuiror said the girlsí typical school day in Japan is from 9:05 a.m. to 3 p.m. They take the regular courses of math, science, history, and physical education. After school the girls have marching band, piano, and their clubs and organizations. Their favorite sports are tennis, basketball and volleyball.
---