School set to start on Sept. 1
This article submitted by Linda Stelling on 8/11/99.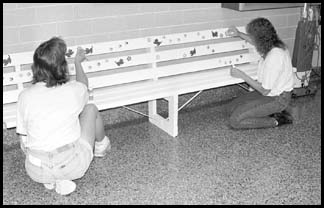 In less than a month, parents will be sending their children out the door for the start of the 1999-2000 school year in the Paynesville Area School District.

The first day of school is Wednesday, Sept. 1. The school day at the high school starts at 8:15 a.m. and ends about 3:10 p.m. The elementary school also starts at 8:15 a.m. but ends the day at 2:55 p.m. The middle school day starts at 8:10 a.m. and ends at 3:15 p.m.

Pam Wilder, left, and Mary Hedtke, right, are busy painting designs on the benches at the elementary school in preparation for the opening of school.

Registration
Registration for the new school year will be held on Tuesday, Aug. 17, from 4 to 7 p.m. and Wednesday, Aug. 18, from 11 a.m. until 1 p.m. in the high school commons area.

During registration, parents and students may pick up their class schedules, locker assignments, put money into their lunch accounts, and pay for athletic activities and activity passes at the same time.

Activity passes are $20 for middle and high school students, $15 for elementary students, and $25 per adult or $50 per couple.

Sport participation fees are $20 per sport for high school students and $10 for middle school students. There is a maximum of $100 per family.

Transportation contractor Phyllis Nielsen will be available to answer any questions pertaining to transportation needs. School nurse Beth Realdsen will also be available to assist parents with health related questions.

New staff
Students will see a few new faces in school this year. New to the district are:
•Charlene Strand, elementary music;
•Laura Ochry, eighth grade communications;
•Alycia Long, special education;
•Diane Miller-Gertken, speech clinician;
•Melinda Zachman, special needs teacher;
•Joan Nevitt, high school/middle school media specialist;
•Dawn Knoll, eighth grade civics; and
•Todd Burlingame, elementary principal.

Staff changes
•Gary Haglund returns from a leave of absence and will teach seventh grade life science;
•Kim Gulbranson moves from special needs to teaching sixth grade science and reading;
•Lou Louis will be moving from Title I to teach full time kindergarten;
•Cheryl Colbert will move from teaching fourth grade to Title I this year;
•Margaret McLaughlin moves from second to third grade.

Assignment book
All students in the high school and middle school will receive a student assignment book on the first day of school. It contains not only places to record assignments but also a condensed version of the student/parent handbook, study tips, and hall passes.

School lunch
The food service department has a new computer software system for the upcoming school year.

This year, families will have a family account for depositing lunch money. Each family will have one account and parents can write only one check for all of their students' meals. Each student will still have their own lunch numbers, but the cost of the meal will come out of the same account.

Lunch prices were raised five cents this year. Cost of a meal for elementary students will be $1.35 per meal; and middle/high school, $1.45 per meal. Adult prices remained the same at $2.25. One carton of milk is always included with the meal, and additional cartons cost 25 cents each.

Open House
An open house will be held at all three schools on Monday, Aug. 30, from 6:30 to 9 p.m. This will provide the students and parents a chance to meet their teachers, and find their lockers and/or desks in their respective classrooms.

While the open house is for all students and parents, the high school will be focusing on freshmen and their parents this year. There will be a series of three special meetings and tours that evening (Aug. 30) at 6:30, 7:15, and 8 p.m.

High School Principal John Janotta said it is their hope to make students and parents comfortable with many of the issues surrounding freshmen.
---