PAHS is getting its first new principal since 1980. After 25 years under the leadership of principal John Janotta, Paynesville Area High School - as well as Paynesville Area Middle School - will be under the direction of new principal Lorie Floura in 2005-06.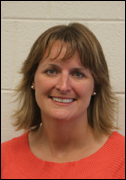 Floura was hired in May by the school board to replace Janotta, and she started working in Paynesville in July.
Having Janotta stay for so long "says a lot for the school, the staff, and the community," Floura said. "That's a very solid program."
In fact, in her first month on the job, she has found Janotta to be a wonderful mentor and very helpful in assisting her adjustment to her new position.
Floura, who grew up in Sioux Falls, S.D., comes to Paynesville with 15 years of experience in education: 12 as a teacher (mostly science) in both middle schools and high schools and three as an administrator. She comes to Paynesville from Truman, where for the last three years she was K-12 principal.
Floura - who hails from a family of seven and calls herself the "black sheep" because she's the only child who did not follow her father's career of dentistry - received an athletic scholarship to the University of Nebraska and was an All American swimmer there for three years.
After graduating, she spent a year in the Twin Cities - pondering law school or a teaching career - before heading back to Nebraska to teach three years at a middle school. Her school was a pilot for science textbooks, and Floura also coached swimming, soccer, and track.
When her husband Tom (whom she had met in the Twin Cities) proposed, Floura moved to Rosemount High School, where she taught earth science and biology and coached the varsity girls swim team, sophomore basketball, and middle school golf.
Staying in the same school district, she then taught three years at Falcon Ridge Middle School, where she was the science department head. At the same time, she got her master's degree in middle school science and brain development, with an emphasis on learning strategies. She still coached swimming and also worked closely with the environmental school in the district and fostered a partnership with Minnesota Zoo for science education.
She took a year off to complete her administration specialty, and then her family moved to the Iron Range, where she taught for a year at an alternative learning center in Biwabi (and also completed her administrative internship) and then two years at Mesabi East High School in Aurora. Part of her work at the ALC was to integrate Profile of Learning standards for all 12 schools and the ALC curriculum.
When she moved into administration, she took a job in Truman, where she was the sole principal in charge of 425 students in grades K-12. She wore "lots of hats" in Truman, also serving as the coordinator for Title I, curriculum, and staff development.
She was interested in the Paynesville job because she and her husband wanted to raise their kids in a small school but wanted a little bigger community than Truman. They knew they wanted to make one last move, she said. Plus, they liked the trees and lakes in this part of the state, and they liked the geographic location, not only its proximity to the Twin Cities but being halfway between her husband Tom's family in Bemidji and hers in Sioux Falls.
As far as school goes, Floura isn't planning any radical changes so far. She said she needs to meet the teachers, staff, and students and get a feel for how things are going, first. Her biggest move so far was moving the staff mailboxes to create a larger foyer in the secondary office.
The school board picked Floura to be the principal at PAHS/PAMS from a field of 94 candidates. Part of what made her stand out was her academic record and variety of experiences in middle schools and high schools. Floura said she was interested in college-credit classes and was close to signing an agreement on a college-within-a-school at Truman. The ABC Booster Club is currently researching college-credit programs for Paynesville.
She also is interested in the Second Step Program, a course of anti-violence, anger management, empathy, responsibility, and social skills for grades 6-9. And she had success in Truman with back-to-school conferences in grades K-6.
The 6-12 principal position in Paynesville is just in its second year, and Floura recognizes the desire to keep a middle school identity. In Truman, she was first K-12 principal, the district having separate K-6 and 7-12 principals before.
Being that the faculty has a strong desire to keep the middle school concept, administration and staff need to "find ways to make it work. They're out there. We just need to be creative," said Floura.
Since Truman was in statutory operating debt during her time there, Floura also recognizes the need to be fiscally responsible.
Education is always evolving, she noted, and while Paynesville might be having enrollment decline currently, she sees it only as a dip. "All the signs point to growth (in the district)," she said.
Floura refers to student behavior, not discipline, though she recognizes that consequences are an important factor in addressing student choices. The goal is to have students choose better behavior, she stressed. "We want to teach kids. We want to teach kids not only the academics, but more so the goal of the school system is to teach social skills," she said.
She and her husband Tom, a project engineer, want to buy acreage, she said. They have two sons: Mitchell, 10, a fourth grader, and Matthew, 7, a second grader
Away from work, Floura likes to swim for exercise, to waterski and tube, to golf, to spend time with her family, to be a great fan of her kids, to travel, to read, and to take road trips with her family.
---
Contact the author at editor@paynesvillepress.com • Return to News Menu
Home | Marketplace | Community
---