Addi Larson joined the Paynesville Press, as a reporter and photographer, in March.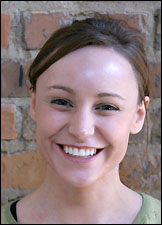 Among her duties, the Willmar native is covering school board meetings, writing feature stories, and taking feature and news pictures for the Press.
She graduated with a degree in media communications from Bethel University in 2002 and has worked as a news director for a radio station in Sioux Falls, S.D., while attending Augustana College, and as a radio personality at Q102 in Willmar.
Her job as news director "required me to pay attention to the world on a level I had not up to that point," she said. "A fascination that developed was one of curiosity, duty, and pure adoration for being informed. News, to me, became a necessity in a way I had not recognized before."
After living in Greenwich Village in New York City (where she worked in a restaurant and sold poetry) and in Schaumburg, Ill., (where she worked for a print media firm) she returned to Minnesota in 2006. She started working at the Press in March.
She believes everyone has a story to tell.
"Now, I find myself telling some of these stories. Fascination still remains, and it has become a life purpose, for which I am grateful daily," she said.
"Paynesville is a remarkably pleasant town full of remarkably pleasant people," she continued. "Everywhere I go, I am greeted with smiles and welcomed with hospitality. There is no other place in the world I would rather be."
In her spare time, she writes music, poetry, and prose and plays the guitar.
---
Contact the author at editor@paynesvillepress.com • Return to News Menu
Home | Marketplace | Community
---