Youth pastor starts at Crystal Hills
This article submitted by Michael Jacobson on 8/09/00.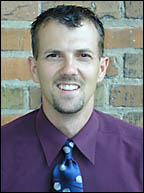 As Darren Olson, the new youth pastor at Crystal Hills Assembly of God, sees it, God called him to youth ministry and to Paynesville.

"I like to hang out with teenagers, spend time with them, build relationships with them," he explained. "Help them with their trials and tribulations and point them toward God."

After a three and a half year stint in the infantry, including service in Desert Storm during the Gulf War, Olson went to school for a fire science degree, which he intended to use as a firefighter. But he stopped a few classes short of a degree. "I just knew that God had something more for me," he said.

So the Mounds View native enrolled at North Central Bible College in Minneapolis and earned a degree in pastoral studies. He graduated a year ago.

He spent the last year working as a youth leader in a church in the cities and getting married.

When he started looking for a youth pastor position, Olson's idea was to head out west: Colorado or Wyoming. Olson initially thought Paynesville wasn't far enough west, but felt called by God to accept the position and move here.

"I love it now," he said. "People have been really friendly. The area is really nice." He started work at Crystal Hills on Monday, July 31.

At Crystal Hills, Olson will be res-ponsible for all youth activities. He will lead a service for youth every Wednes-day night. In addition, he will be preaching once a month to the con-gregation at their Sunday evening service, and he will perform other duties as needed by Pastor Lonnie Gleitz.

Olson said his wife of ten months, Maisa, is a huge help in his ministry. Maisa, a house appraiser, will be teaching Sunday school at Crystal Hills.

So far, Olson said things are going well in his first pastor position. Coming from the cities, he still is adjusting to life in a small town.

His hobbies, though, should fit in nicely. He enjoys hunting, snow-mobiling, waterskiing, and spending time at the lake.
---