Roscoe Fun Days celebrating 25th anniversary
This article submitted by Linda Stelling on 8/9/00.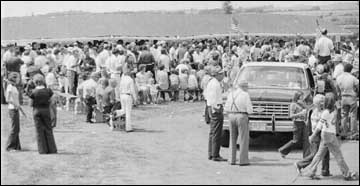 Roscoe Fun Days will celebrate its 25th anniversary on Saturday and Sunday, Aug. 12 and 13. The festivities will include a volleyball tournament, children's carnival, mechanical bull, hot air balloon rides, and a parade.

The community celebration started in 1976 (see photo of that first celebration at right) after a group of people met to decide what to do for the bi-centennial. "A lot of small towns were doing something for the bi-centennial," said Mary Heinen, one of the organizers of the first celebration. "Through a process of elimination, we settled on the second weekend in August," she added.

"Our intent was for people to gather and have fun, thus the name Roscoe Fun Days," Heinen said.

According to Heinen, the purpose of the celebration was to bring the community together. "We started from scratch. We had nothing to work with, no tents, food stands, etc.," she said. Profits from the first celebration were used to start the Roscoe Recreation Club, which presently hosts the celebration.

The first celebration started with a parade and ended at midnight. Mehr recalls the first parade was rather short. It started by the elevator, went around one block, and returned to the elevator.

"We were shocked at how many people attended the first celebration," Marie Mehr said. "We never thought it would go over that big. There were almost 1,500 people in attendance."

Besides the parade, there was a fish and duck pond where the kids could win prizes. The first raffle had 26 items. Today, it has grown to over 100 prizes.

The people of Roscoe have a lot of good memories of the various celebrations over the years. "We had more fun than work," Heinen said.

Members of the first organizational committee were Marie Mehr, Julie Katzner, Marion Spanier, Mary Heinen, and Rose Leyendecker.

Parade grand marshals
Edmund and Cecila Gertken are the parade grand marshals for this year's Roscoe Fun Days parade.

They were selected because of their involvement in the community and church. "The family is well-known and well-liked in the area," said Rich Philabaum, committee member.

Gertkens have five children. The youngest will be a senior this year at the Paynesville Area High School.

Fun Days schedule
A children's carnival will be in the baseball park from Friday to Sunday, with rides opening at noon.

Activities will start at 9 a.m. on Saturday with a mixed volleyball tournament. At press time about 20 teams were entered in the tournament. Anyone wanting to enter a team should call Art Schlangen at 320-597-3591.

Paint ball games will be held on First Street, east of the baseball park, on Saturday and Sunday afternoon.

Dixie North will perform in the baseball park Saturday night from 8:30 p.m. to 12:30 a.m. A mechanical bull will also be available to ride from 8 to 11 p.m. There is a $5 cost per ride.

The parade will start on Sunday at 12:30 p.m. Parade entries should contact Leroy Schlangen at 320-597-2080 or Sandy Leyendecker at 320-243-9995.

Following the parade in the baseball park on Sunday will be kids and adults games, a caricaturist, and horse and fire truck rides. Heartland Entertainment will perform from 1:30 to 5 p.m.

A POW hot air balloon from St. Cloud will arrive late Sunday afternoon, weather permitting. A donation will be required for rides.
---