Halvorson travels through Hong Kong and India
This article submitted by Erin Aagesen on 8/09/00.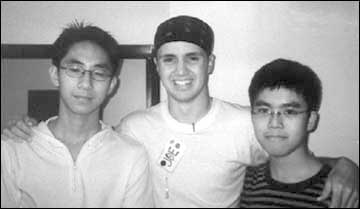 Joe Halvorson celebrated his graduation from high school in a unique way. This summer, he spent nearly seven weeks sharing his faith through music in Hong Kong and India.

Joe with new friends in Hong Kong.

He traveled with the Christian youth group, On Call. Twenty-one members of the group, under the supervision of Paynesville's Gary Condon, went on the trip. On Call members come from the Willmar area.

The purpose of the journey was to promote Christianity primarily through concerts that OnCall members performed in churches, schools, and community centers. However, they also spent a large amount of time talking with people about Christianity, making friends, and traveling from location to location.

"I didn't know what to expect," said Halvorson, of his thoughts before the trip. "I just tried to keep my eyes open and take it as it came to me."

They followed a demanding schedule, performing an average of two concerts each day. The program varied depending on how much time they had, but typically involved songs and a skit. Halvorson played his trumpet during some of the tunes.

Illness plagued the group; only three members were able to sing at every concert. Halvorson himself felt quite sick on two occasions.

Still, according to Joe, it was a highly rewarding experience. He recorded his reactions in a journal. While in India, he wrote, "I can feel scared and stressed and nauseated while feeling love and peace and joy. Everything is turmoil and chaos. Yet. . . it's beautiful."

They began their work in Hong Kong, spending the majority of the time on the Kowloon Peninsula.

For the first week, they hosted English conversation classes for Hong Kong teenagers. Each day, there was a theme, such as traditions, that the American teens spoke about with the Hong Kong teens.

"It was just to get them exposed to and speaking English," said Halvorson. Following the classes, the group performed short concerts.

The language barrier made it difficult to communicate at times, so interpreters and transparencies of song lyrics were used to help the youth understand the message.

The remaining ten days in Hong Kong were spent performing in churches and schools and doing street evangelizing.

Halvorson describes Hong Kong as a highly industrialized, crowded, and materialistic nation. "The goal of most of the kids is to make and spend money. That fact made it difficult to tell them about hope and joy and peace," said Halvorson.

However, he felt that they did reach people and had a lot of fun in the process.

One night, Halvorson and a few of his friends played a pick-up game of basketball with some youth from Hong Kong. That experience stands out in his mind.

Upon leaving Hong Kong, Halvorson wrote in his journal, "Tonight at devotions we talked about some of our best HK memories. A lot mentioned the conversational English class, some the street evangelizing, others a certain concert. Ben and I both mentioned the kids who came forward during the altar calls even though they were being jeered and ridiculed by their classmates and friends. I have the utmost respect for them all!"

The group spent one night in Bangkok, Thailand, before moving on to India. Once there, they traveled all over the world's second most populous nation: to Calcutta, Darjeeling, Siliguri, and Gangtok.

Both the scenery and the people were much different from Hong Kong. Halvorson describes India as much more poverty-stricken and worn-down, though the people are friendlier and more enthusiastic. He noted the abundance of natural beauty in the area.

Again, they sang in churches and schools. "The kids were so receptive," he said. "They had so much energy and spirit. They loved to have fun and were more comfortable around one another than in Hong Kong."

The hospitality of the people was not limited to visitors. Halvorson said that even in the larger cities people always acknowledged each other on the street, trusted each other, and were more affectionate.

The city streets were a new experience as well. They were chaotic and noisy. Cows and wild dogs roamed freely, sanitation was not always an option, and poverty was common.

"It's unbelievable. I wish I could take every person who reads this and walk them through the streets of Calcutta," Joe wrote.

Taking everything into consideration, he felt he grew both spiritually and as a person during the experience.

His final journal entry, written on the plane ride home, reads, "I'm ready to see everyone againŠ to be home, I mean. I've loved every day of this trip and part of me wants it to just keep going and going. . . but another part knows it's probably time to get back into the regular life stuff- whatever that is!"
---