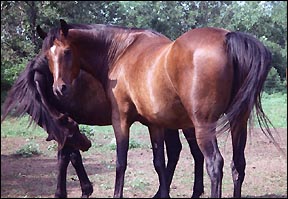 The West Nile Virus has been found in both Stearns and Kandiyohi county within the last week.

The Minnesota Department of Health confirmed, on Friday, Aug. 2, that a horse in the Kimball area in Stearns County has been infected with the West Nile Virus.

Area horses, like these belonging to Mike Flanders, were recently vaccinated for the West Nile Virus.

In addition, state health officials announced on Monday, Aug. 5, that 17 birds from the state have tested positive for the virus, including four in Stearns County and one in Kandiyohi County.

This news comes as no surprise to health officials, who say the disease has been spreading westward since it was first discovered in New York in 1999.

West Nile Virus is transmitted through the bite of an infected mosquito. So far, the virus has been found in 34 states and the District of Columbia.

In Minnesota, the virus has now been found in seven horses and 17 birds. Horses have been found in Beltrami, Clay, Grant, Hennepin, Lac qui Parle, Roseau, and Stearns counties. Birds have been found in Hennepin (six birds), Stearns (four birds), Ramsey (three birds), and St. Louis, Swift, Kandiyohi, and Mille Lacs.

People are at an extremely low risk of getting West Nile Virus, according to the health department. If a person gets infected, it's unlikely they'll get seriously ill.

Most of the time, people don't even experience any symptoms. For those who do get seriously ill, most will get better. Since the virus made its way into the United States three years ago, there have been 152 human cases nationwide and 18 people have died from the illness.

In 2002, 88 humans have been reported with the West Nile Virus in three states (58 in Louisiana, 22 in Mississippi, and eight in Texas).

Minnesota health officials noted that there are some significant differences between the mosquito populations of Minnesota and Louisiana, where the most recent deaths from West Nile Virus have occurred. "Although we have about 50 species of mosquitoes in Minnesota, we don't have a couple of the species that are thought to be transmitting West Nile," said Dave Neitzel, an epidemiologist with the Minnesota Department of Health.

Symptoms of West Nile Virus in humans can include headache, high fever, stiff neck, and vomiting. When the illness progresses, symptoms can include confusion, tremors, convulsions, muscle weakness, and paralysis.

West Nile Virus does pose a serious threat to horses. Symptoms include lethargy, hindquarter weakness, involuntary muscle contractions, loss of coordination, head tilt, and convulsions. Last year, 731 horse cases were identified nationwide. Approximately one third of these horses either were euthanized or died from the infections.

There is no treatment for the illness, but there is a vaccine available for horses. The cost for inoculation runs around $15 and needs to be administered twice. Some horse owners can give the shot themselves. For those who can't, the cost of a veterinarian call needs to be added.

Lots of people in the area are getting their horses vaccinated for the West Nile Virus due to the recent scare, said Jan Peterson, a local veterinarian.

Mike Flanders, whose family owns 15 horses for their riding stable, didn't expect the virus to reach Minnesota until 2003 and didn't have his horses vaccinated for it until July. They started five weeks ago by vaccinating five horses, their favorites, their oldest, and their most valuable. Last week, they gave booster shots to those five (after 28 days) and gave a first dose of the vaccination to the rest of their herd. It will be weeks before the first five achieve maximum protection against the disease. The rest will get a booster in three weeks.

Flanders has given each of his horses five vaccinations every spring. Now he plans to give six.

While West Nile Virus typically infects horses, it can also be found in birds. Dead crows from several Minnesota counties have tested positive for the virus, and the state health department is testing more birds whose deaths are suspicious. Some birds have been sent by animal control agencies in Stearns County and have tested positive for the West Nile Virus.

If you see a bird that seems to have died suspiciously, especially a crow or blue jay, which are more susceptible to the disease, call the Minnesota Department of Health at 1-877-676-5414.

Farmers do not need to worry about the West Nile Virus affecting other livestock, according to health officials, since there is no evidence the virus affects cows, pigs, or other such animals.

There are steps people can take to protect themselves and their animals from West Nile Virus, mainly by reducing their exposure to mosquitoes.

•Get rid of any standing water, especially in old tires, birdbaths, or other places where water can collect.

•If you give drinking water to your animals in a bucket, be sure to change that water at least daily.

•Avoid being outside at dusk or dawn when mosquitoes are at their worst.

•Wear long sleeves and pants and socks when outside. The less skin exposure, the better.

•Use mosquito repellent and watch your pets so they don't bring mosquitoes inside.

For more information about the West Nile Virus, log on to the Minnesota Department of Health's website at www.health.state.mn.us.
---
Contact the author at editor@paynesvillepress.com • Return to News Menu
Home | Marketplace | Community
---