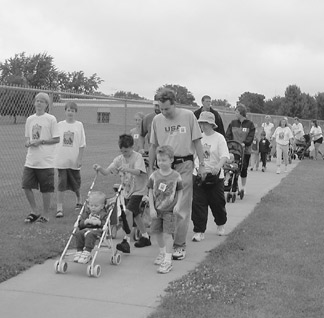 On Saturday, 62 people - mothers, fathers, children, and friends - took to the streets of Paynesville near the Gazebo Park to celebrate breastfeeding and to increase public awareness of the Paynesville Area La Leche League.

The walk - hosted by the Paynesville Area La Leche League and sponsored by area businesses - was one of hundreds of walks held by member clubs of La Leche League International in cities all over the world to make communities aware of the importance of breastfeeding. Although walks are being held throughout the summer, most were held in conjunction with world breastfeeding week during the first week of August.

This year's walk was the first public event for the local group, which was organized in 2000, as well as the only La Leche walk held in outstate Minnesota.

La Leche League International is an organization dedicated to providing information and support to women who want to breast feed their babies and toddlers. It has organized walks for the last 13 years. The walks generally serve two purposes - raising money through pledges and raising breastfeeding awareness.

Since the Paynesville group is in its infancy, organizers omitted the fundrasing aspect of the walk in favor of using it to inform the Paynesville area about the local La Leche group.

Under the leadership of Laura Thompson of Paynesville and Angela Mehr, a Lake Henry native who now lives in Cold Spring, members and friends of the Paynesville Area La Leche League gather monthly for discussions on the advantages of breastfeeding, the first weeks of motherhood, overcoming breastfeeding problems, nutrition, and weaning.

"La Leche is mothers helping mothers," said Thompson, adding that meeting discussions are not confined to the subject of breastfeeding. It's a forum for mothers to exchange information on a myriad of topics, from sleeping problems to temper tantrums.

"La Leche offers information, not advice. You should take what works for you and leave the rest behind," said Thompson.

The group is small, usually seven or eight women, said Mehr, and nursing babies are welcome.

Sometimes nursing mothers attend meetings only when they are having problems, said Thompson, who is trained by La Leche to address problems. "And that's fine." Leaders and members want to make nursing a positive experience. Thompson, Mehr, and all La Leche leaders volunteer their time. Besides leading regular meetings, they do phone consultations. Although it's not part of a leader's job description, Thompson also does hospital visits to help new mothers and babies develop a good breastfeeding relationship from the start.

"The Paynesville hospital needs the presence of La Leche," said Dr. Randy Zimmerman. He has asked La Leche leaders to help patients at the Paynesville Area Hospital System on several occasions.

Zimmerman considers health care a team effort, and La Leche is a valuable member of his team.

According to Zimmerman, in the past, women usually had an extended family on hand for advice about breastfeeding. Now, with families frequently separated, La Leche can help fill that gap by acting as a family of women.

According to the American Academy of Pediatrics, breast-fed children are healthier. They have fewer ear infections, allergies, and have higher IQs than bottle-fed children. Mother's milk contains antibodies that can protect against many diseases and breast-fed children have a lower incidence of some cancers.

Mothers who breastfeed also have a lower incidence of some cancers, including ovarian and breast cancer. Breastfeeding is economical and convenient (no bottles to heat in the middle of the night), and breastfeeding creates a strong bond between mother and child.

According to La Leche League International, the group was founded in the mid-1950s when - because of the availability of baby formulas - breastfeeding was falling out of favor with mothers. The name La Leche (Spanish for milk) was chosen for the organization because using the word breast in the name was deemed inappropriate at the time.

In the nearly half-century since its beginnings, La Leche League International has become active all over the world and helps the World Health Organization and UNICEFF to educate women in poor countries about the value of breastfeeding.

The Paynesville Area La Leche League meets the third Thursday of each month at Grace United Methodist Church at 7 p.m. Pregnant women, mothers, and children are welcome.
---
Contact the author at editor@paynesvillepress.com • Return to News Menu
Home | Marketplace | Community
---