Lang, Hoeft return from UN Pilgrimage Youth Tour
This article submitted by Erin Aagesen on 8/4/99.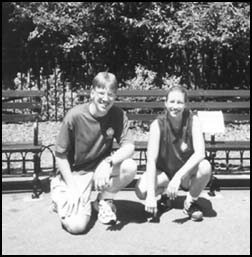 Ryan Lang and Steph Hoeft recently returned from the 50th U.N. Pilgrimage for Youth tour of the east coast. The trip was sponsored by the Odd Fellows and Rebekahs as a way for youth to learn more about the United Nations and to become more politically aware.

Lang was sponsored by the Paynesville Odd Fellows and Rebekahs, as he won the local competition. This consisted of a speech and essay contest and a personal interview. Steph Hoeft was the runner-up, so she went on to the state competition. She was then chosen to participate in the program.

Lang and Hoeft departed by airplane on June 28 and returned July 9. For the first week they were placed on a tour bus with other kids from Minnesota, Oregon, Idaho, Washington, and Wyoming. "The bus rides were so fun!" said Steph. Ryan added, "I got to know everyone really well because we were together for hours at a time."

In Washington, D.C., they had the opportunity to watch the President of Egypt arrive at the Capitol. They toured the Lincoln, Vietnam, and Korean Memorials, the White House, and Arlington National Cemetery. During free time once, Steph and Ryan bought a sandwich and pop for a homeless man. They talked to him for a half hour. "It was very sad for me to see someone in that condition," said Steph. "It made me feel good to help him."

The tour also consisted of visits to Niagara Falls, Gettysburg, and New York City. Both Ryan and Steph agreed that New York City was their favorite part of the trip. Over 200 delegates gathered together in the city from separate tours. One day, the whole group voluntarily painted benches in Central Park. Every morning, they sang the anthem of each country represented in their group. They saw a Broadway production of Les Miserables, went shopping on Fifth Avenue, and watched fireworks from the top of the Empire State Building on the Fourth of July. A ferry took them to see the Statue of Liberty and Ellis Island. Everyone participated in a speech contest, in which the topic was, 'Children of War.'

Another highlight was touring the United Nations building. They were given access to rooms the general public could not see. "It was interesting to see all the different parts of the U.N.," explained Ryan. The delegates listened to speakers representing the Human Rights Service, Immigrants and Naturalization, and UNICEF. Steph was approached by a woman who wanted to give her a job at the U.N. as soon as she is old enough. "I would love to do that," said Steph. "She told me I should study foreign languages and social sciences to get into a career like that."

Lang and Hoeft said it was hard to leave the friends they had made, but they plan to keep in touch. "The memories I made on this trip are irreplaceable," said Steph. Ryan agreed, "The Oddfellows and Rebekahs have such a great program. It's disappointing that more kids don't try out for it."
---