For 30 years, only one curator
This article submitted by Michael Jacobson on 8/4/99.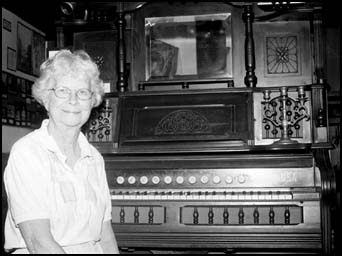 When Bertha Zniewski attended a Lions Club meeting in 1969, she had no idea how it would end up altering her life. At that meeting, a representative of the state historical society was informing the members about what it would take to form a local chapter. When he asked about a curator, Don Torbenson, the Lions Club president at the time, suggested Bertha, who was so surprised that she said "you could have knocked me over with a pin."

Thirty years later, the museum had three homes and outgrew a number of buildings but still has only had one curator, Bertha, now 77. "And here I am 30 years later still the curator," she said. "I've made it my life's work."

Bertha Zniewski has been the curator of the museum during its entire 30-year existence. She is pictured next to one of the museum's newest additions: a two-story organ from the former Paynesville Methodist Church, which was donated to the museum by one of its former ministers, Rev. Lloyd Osborn.

"This preservation means something to her. It's important to her," explained Connie Williams, a graduate student in public history at SCSU who has worked at the Paynesville museum for the past three summers. "Otherwise it's gone forever. Just like an ice box, where else would a kid see that?"

When the museum first started, the donation of artifacts poured in by the boxful. The police would call Bertha at home so she could come down and clear the sidewalk. Through the years, donations to the society have filled every building that has housed the museum.

"We were lucky," said Bertha. "When we started, people were so happy to give, to have their family represented." One special feature of the museum is the naming of the donor in the museum display. Bertha thinks it adds a personal touch to the museum to recognize from where an item came. Antique collecting provides competition for donations for the museum these days.

Aside from her work at our historical society, Bertha provided the impetus to start the historical society in St. Cloud, her hometown, as well. In 1971, she took a Paynesville delegation to St. Cloud to argue that the Stearns County Historical Society should be transferred to Paynesville, being that it was inactive in St. Cloud. That sparked some interest in the Stearns County capitol, she said.

"For a big place like St. Cloud," explained Williams, "they weren't putting much effort in (a historical society) at all until she threatened to bring it to Paynesville."

She served for 10 years on the Stearns County Historical Board, including when the $2 million Heritage Center, now called the Stearns County Area History Museum, was built. People used to come up to her at meetings, look at her name tag and ask increduously, "Are you the one who wanted to move the historical society to Paynesville?" Smiling, she repeats her answer, "Yes. Yes. That was me."

She still wonders, "Why does everything have to be in St. Cloud?"

"She's certainly got passion, spunk, fire," said Williams. "She cares a lot about what happens to (the museum)."

Bertha was born in town at a grandparent's house in Paynesville and spent two days here before growing up in St. Cloud. "I came here as a child all the time, never dreaming that I'd live here all my life," she said with a laugh.

She attended St. Cloud Teacher's College and became an art and physical education teacher, though she would have preferred home economics to the latter. She taught in Northfield, Minneapolis, and Chicago, where her late husband, Frederic, went to photographer's school after World War II.

In 1948, they returned to central Minnesota to search for a small community to set up a studio. After visiting Litchfield, Bertha asked Frederic to drive back to St. Cloud through Paynesville so they could visit her grandmother. An old bank building downtown, where Glory Schreifels has her office now, was up for rent, and they agreed to rent it that very day, eventually using the vault in the basement as a darkroom.

Bertha, who while a teenager often had been less than eager to visit Paynesville, surprised her parents with the news. "My mother just rolled on the living room floor when we told her we were going to move to Paynesville," she explained. Their original plan was to live here for 10 years, but Bertha is still here a half century later.

She pursues historical interests beyond the historical society and the museum. She started in geneology in 1969 and has written two 400-page books, about both sides of her family. Her Lewerenz grandfather was a blacksmith in North Paynesville, and her other grandfather was a section foreman on the railroad while living in town. She's still working on a Zniewski family history book.

She's collected buttons since 1969 and has over 10,000 buttons in her collection. She belongs to local, state, and national button groups. Also, she has participated in an Indian history group in Willmar for the past 12 years.
---