Todd Johnson has a foot-long scar on his abdomen where doctors performed emergency surgery after an accident in May. At the same time, doctors made a long incision in Todd's back to repair his aorta - which was torn during the accident - and another scar on Todd's hip reveals the spot where doctors repaired his shattered pelvis, also a result of the accident.

Todd, from rural Hawick, his brother Torry, who lives near Regal, and Todd's girlfriend Selina Masters, who lives in New London, were together during the accident. Now all three are recovering from serious injuries.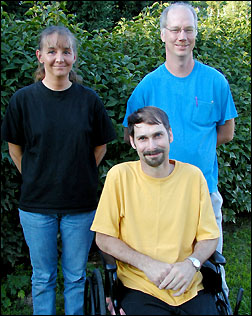 Their friends aren't willing to sit back and let them suffer alone, though. They've planned a benefit for the threesome at the Paynesville Evangelical Free Church on Saturday, Aug. 7.
Selina Masters, Todd Johnson (seated), and Torry Johnson were seriously injured in a car accident in May. Several area churches are planning a benefit for the trio on Saturday, Aug. 7, at the Paynesville Evangelical Free Church from 3:30 to 8 p.m.
Todd, Selina, and Torry were on their way to a funeral in Iowa in mid-May when the compact car they were driving was hit broadside by a large car - which police estimated was going over 50 miles per hour - that ran a stop sign in southern Minnesota.
Fortunately for Todd, who took the brunt of the hit and was the most seriously injured, a medi-vac helicopter was in the area and the pilot flew straight to the accident scene when he heard the police call, just in case.
Once Todd and Selina were removed from the car (Torry was thrown from the car), Todd was air-lifted to a Twin Cities hospital. According to Todd, people with torn aortas have less than a 10 percent chance of surviving, so having the helicopter on hand to take him to a trauma center so quickly probably saved his life.
In addition to a torn aorta, serious damage to his internal organs, and a broken pelvis, all of Todd's ribs were broken, his arm was broken, and his collarbone and sternum were broken.
Torry had one of his kidneys torn in half and suffered from a bruised rib.
Selina, who was in the back seat, suffered a concussion, broken ribs, and broken vertebrae in her neck. Part of her upper jawbone was also broken.
After a long summer, the threesome's wounds have begun to heal. Todd spent one month in the hospital (doctors predicted three months) and is now at home. He has three children who help out at home, and two grandchildren, who he adores, to help speed his recovery.
Todd still depends on a wheelchair, though it will be gone once his pelvis heals. Always a lean man, Todd is very thin now. Damage to his stomach caused him to lose a lot of weight, he said.
His vocal cords were damaged in the accident, so he talks just above a whisper. He's confident, though, that he will recover. He's already beat the doctors expectations, he pointed out.
Todd is a self-employed mechanic. He works on cars, trucks, and tractors, though he prefers tractors, he said. Fortunately, his son Steve has been able to keep the business open, but it's a lot of work for one young man, Todd said. Otherwise, there's been no income in the household since the accident. He hopes to be back to work by November, he said.
Selina, who has two children, has temporarily moved into Todd's home to take care of him, though she too is still in pain. She finds it difficult to turn her head or look down. Last week she underwent oral surgery to repair the damage to her jaw and she currently has stitches in her mouth, so talking is difficult. Selina is a housekeeper at a Willmar hospital, but her injuries have also kept her from work, possibly through fall.
Torry, who is married and has four kids, is still in a lot of pain. His kidney will never regenerate, he said. Torry works for the Stearns County Highway Department as a welder. Like Selina, Torry is waiting for clearance from doctors so he can return to work, hopefully in the next couple of months, he said. He has long-term disability insurance, but it doesn't kick in until he's been out of work for six months, so his family is suffering financially also.
With no income coming in, all three accident victims are suffering from financial hardships. Most medical expenses have been paid by insurance, which is good since just 10 days of one of Torry's IV medication (given at home) cost more than $7,000 and Todd's helicopter ride alone cost about $11,000. However, the man that hit the threesome had "high risk" insurance with only the minimum coverage amounts, so the insurance has been maxed-out and some of the trio's medical expenses have gone unpaid by insurance. Also, insurance doesn't pay day-to-day living expenses such as driving to hospitals in the Twin Cities or Mankato for ongoing medical care.
That's where friends come in.
Friends, family, and the congregations of several area churches have come together to throw a benefit for Todd, Selina, and Torry. Sponsored by the Paynesville Evangelical Free Church (Torry's church), Hope Presbyterian Church (Todd and Selina's church), Nordland Lutheran Church, Zion Lutheran Church, and Peace Lutheran Church - all churches in the area where the Johnsons and Selina live - the event will feature a hog roast, a silent auction, a bake sale, and pony rides and games for youngsters. In addition, a food sale featuring fresh garden produce and donated farm-grown meat will be held.
Todd, Selina, and Torry are all grateful to the community for their support. According to Todd, it's a blessing to live in a community that will rally for a neighbor during hard times.
All three of the accident victims believe God has helped them through this time. "We always believed in God," said Todd. "Now we believe even more."
The Johnson/Masters benefit is scheduled for Saturday, Aug. 7, from 3:30 to 8 p.m. at the Paynesville Evangelical Free Church, which is located three miles west of Paynesville on Highway 23.
To make a donation for the silent auction or the food sale, call Laural or Bianca at 320-276-8271. Cash donations are being accepted at Community First National Bank in Paynesville.
---
Contact the author at editor@paynesvillepress.com • Return to News Menu
Home | Marketplace | Community
---