Lawrence "Mike" Haider loves flowers. He loves growing them, he loves sharing them, and he loves talking about them.

Next week, Haider will share his passion with other flower-lovers at the 44th annual flower show at Grace United Methodist Church on Saturday, Aug. 9, and Sunday, Aug. 10.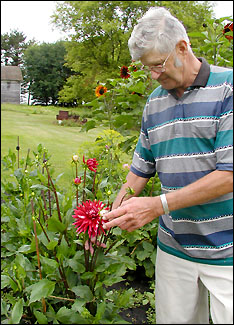 Haider has transformed the property around his Lake Henry farm into a living testament to his passion for flowers. Travellers driving on Co. Rd. 19 between Lake Henry and Belgrade are treated to an ever-changing display of Haider's hillside flower beds.
Lawrence "Mike" Haider works with a dahlia in one of his many flower beds at his Lake Henry home. Haider figures he grows hundreds of flower varieties but he has a special fondness for his dahlias and lilies.
Near a huge wooden American flag lies a sculpted patriotic bed of red, white, and blue flowers. More flower beds spread across the property boast displays of colorful annual flowers and perennial flowers, some rare. "I'll bet you've never seen one of these before," Haider laughs while pointing to a four-foot tall flowering nicotina. "It's a tobacco plant!"
Under trees behind the house is a shade garden where lilies reach for the sky and the wispy red blossoms of astilbie flutter in the breeze. The shade garden is new this year, Haider hopes to expand it next year with colorful annuals.
He likes both annuals and perennials, but since his knee replacement surgeries, Haider finds planting annuals every year is hard on his steel knees.
Haider, a retired bachelor farmer, started gardening as a young man. While recovering from surgery as a 25-year-old, he couldn't work on the farm that summer, so he helped his mother tend her flowers instead. From there, Haider's passion grew.
In 1960, he bought the family farm and built his own flower beds while maintaining the ones his mother had begun while he was still a child. At first, he gardened with his sister, growing mostly dahlias and gradually adding lilies and other plants.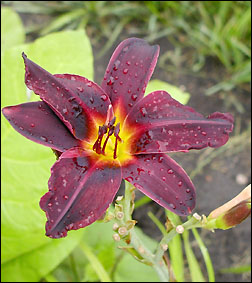 About 15 years ago, Haider retired from farming and was able to devote more time to his plants. It was then that the flower beds began to expand. Though he doesn't keep track of how many plants he has, Haider estimated that he grows hundreds of flower varieties and the number is growing.
Pictured is one of the many exotic lilies that grace Lawrence "Mike" Haider's flower beds. Haider's blooms can be seen by travelers on Co. Rd. 19 between Lake Henry and Belgrade.
Still, Haider can name every plant in his gardens and he can recite the history of most of them.
"This clematis is more than 50 years old," boasted Haider as he pulled the plant high onto a trellis. Wandering through the numerous beds on the property, Haider pointed out purple phlox that was part of his mother's flower beds and a shrub rose that he estimated to be more than 65 years old.
New plant varieties are always welcome, and while he doesn't mind splurging on a plant he really wants, his eyes are always open for a bargain. "I got these lilies when a lady was getting ready to throw them out," Haider beamed. Many of Haider's flowers were given to him by others.
When he first started, he got most of his plants by swapping with friends and other gardeners. He still shares his plants and gets plants from others, but the majority of his plants are purchased from local nurseries and mail-order catalogs.
Haider has a few hobbies that don't include plants - he loves to golf and have coffee with his friends in the morning - but even his golf hobby turned to flowers when he volunteered to maintain the beds at the golf course in Brooten. "Now I don't even have time to golf," he said.
Haider also tends the flower garden at the Paynesville Area Center, and he makes arrangements for friends with his fresh-cut flowers.
Haider grows his flowers to share with others. His beds are arranged for the enjoyment of passersby on the county road, garden clubs are welcome to tour his gardens, and he shares his expertise with anyone with an interest.
Flower shows give Haider the opportunity to share his blooms with the public. He's entered dozens of shows - including the show at Grace for more than a decade - and has a collection of ribbons to show for his effort. "I have enough ribbons to make a quilt out of them," he laughed.
The theme of the 2004 flower show at the Grace United Methodist Church, which is sponsored by the Paynesville Area Garden Club and the Women of the Grace United Methodist Church, is "Fill Your Life With Flowers."
For the first time, the show will have a division for fruits, vegetables, and herbs. Participants need to have their entries at the church from 8 a.m. to 10 a.m. on Saturday. The show will be open to the public from 1 p.m. to 6 p.m. on Saturday and from 1 a.m. to 11 a.m. on Sunday.
---
Contact the author at editor@paynesvillepress.com • Return to News Menu
Home | Marketplace | Community
---