Ruth Aulick started the local foodshelf in her garage and the civic charity also was housed in the attic above city hall for a time. For years, the Paynesville Area Community Service Center has operated out of an inadequate house, but it will soon get a new, modern home.

Ground was broken last week on a new Paynesville Area Community Service Center (on the other side of downtown from their current location) at the corner of Lake Avenue and Washburne Avenue.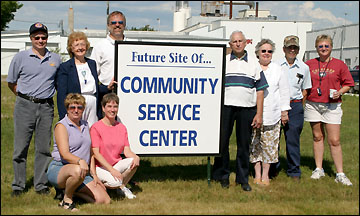 With the Paynesville Lions raising $100,000 - including a $40,000 grant from the Lions International Foundation - for the project, the new 3,360-sq. ft. foodshelf should become a reality this fall. Construction is expected to begin in August and will hopefully be done by late October or November.
The groundbreaking on Friday included: (kneeling) board member Margaret Spanier and director Pam Willquette; (standing) former Lions president Dave Mutschelknaus, founder Ruth Aulick, board member Pastor Dave Nelson, volunteer Maurice Dosdall, volunteers Marlis and Gaylord Chesness, and board member Hannah Voss.
The one-floor building will be handicap accessible and will have more space, said director Pam Williquette at the groundbreaking ceremony on Friday morning. It will still be conveniently located near downtown but will offer more confidentiality to clients and will have less heavy truck traffic. The energy-efficient building will also allow the center to focus its resources on buying food, added Williquette.
The purchase of the lot from the city was finalized last week, and the Lions Club has received $100,000 in pledges for the project, including $11,000 from the local chapter and $10,550 through the Paynesville Ministerial Association, which dedicated a fundraiser towards the new building last winter.
The Lions Club was hoping to get a $60,000 grant from Lions International, said Joe Voss, chair of the local Lions' finance committee, but received verbal confirmation of a $40,000 grant in July.
While $100,000 will be enough to construct the building, it leaves $21,500 still needed to purchase walk-in coolers for the new foodshelf, said Voss. Other remaining needs include shelving (which must have special vinyl coating for food), stainless steel tables for food packaging, and a floor scale to weigh food deliveries. The current garage will be moved (along with inventory and equipment) to the new site for the Paynesville Area Community Service Center hopefully this fall.
In all, another $30,000 or more could be raised, said Voss.
Voss said he realized the need for this project when he went on a service call to the existing foodshelf, which is located in a house. "This is terrible," he said he remembered thinking. "How can you exist in this building?"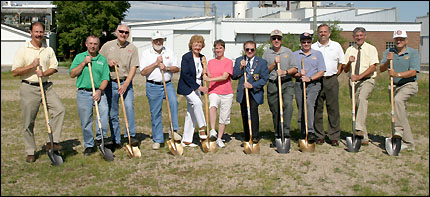 A groundbreaking was held for the new Paynesville Area Community Service Center on Friday. Pictured are: city administrator Steve Helget, mayor Jeff Thompson, designer Marv Fasen, Lion Ray Lindeman, founder Ruth Aulick, director Pam Williquette, Lions district governor Alan Stanlake, Lion Sig Pfeifer, former Lions president Dave Mutschelknaus, board member Pastor Dave Nelson, board member Wally Thyen, and Lions president Joe Voss.
Though the house had an addition for the foodshelf, household furnishings and clothing were still located in the small rooms. It was inefficient and did not offer much confidentiality.
Privacy is important because no one should be afraid to get help if they need it, said Voss.
The push for a new building started in January 2003, but it gained urgency in the last year. Former Lions president Dave Mutschel-knaus pushed for the project, said Voss, and deserves credit for making it a reality.
Mutschelknaus, at the groundbreaking, said his reasons for backing the project were threefold: he sees kids and families in need through his job as a social worker in the local school; he saw the current foodshelf facility was inadequate and deteriorating; and he thought it was an excellent service project for the Lions, who also got donations from three other Lions Clubs, including $5,000 from the Lake Henry Lions and $5,000 from the Richmond Lions.
In the new building, clients will have a private reception area, while volunteers will work in separate areas for enhanced confidentiality.
The local foodshelf will need the continued support of the community, especially volunteers, as this project progresses. "The building helps," said Williquette, "but it's the volunteers that make it work."
In a perfect world, there would be no need for foodshelves, said Mayor Jeff Thompson at the groundbreaking ceremony on Friday morning. "As long as we can't live in a perfect one, we'd probably better strive to live in a quality one," he said.
The new building will be so nice that they could hardly ask for more, said Aulick, who founded the local foodshelf three dozen years ago. "I'm just awed by all of this," she said.
---
Contact the author at editor@paynesvillepress.com • Return to News Menu
Home | Marketplace | Community
---