K1 Sportswear of Cloquet, which manufactures sports apparel, recently opened a hockey apparel manufacturing branch in Paynesville. KPayne LLC - as it is called, combining the parent company's name and the plant's location in Paynesville - had its machines running at the beginning of June in the James Street building that used to house SuperValu.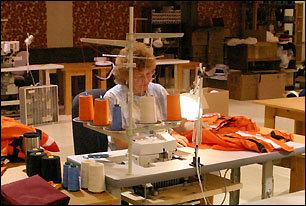 Currently, K1 has 60 employees in Cloquet, where it began selling hockey jerseys 20 years ago, and it now produces hockey and lacrosse jerseys, as well as sports jackets and other sports apparel. However, 90 percent of the company's product is hockey jerseys, and that is what the 13 employees at KPayne LLC primarily manufacture.
Kathy Knutson sews a hockey jersey at KPayne LLC - a new plant for K1 Sportswear of Cloquet - which opened in downtown Paynesville in June.
Steve Guzy of Paynesville, who at one time managed the Stearns Manufacturing division in town, is the plant manager at KPayne LLC. After another local apparel company closed its sewing division, K1 knew that there was a "good pool of applicants that have sewing experience" and decided to open a branch here, according to Guzy.
Hockey jerseys manufactured by K1 are sold to dealers throughout the country. Most of the orders are for 40 to 100 jerseys, and 800 to 1,000 jerseys are being manufactured here each week. Guzy has a goal of 1,500 per week as the process smooths out.
When specific orders are not being finished, the sewers work on practice jerseys to keep inventory up, because K1 offers same day shipping on them. Jerseys, which can be specially designed, are produced in 18 colors and with seven different types of fabric.
After the fabric is imported, most of the material is cut in Cloquet according to the necessary patterns before being shipped to Paynesville, but a minimal amount of cutting is done directly at KPayne LLC. The jerseys are sewn, and after they are finished, they are transported to Cloquet before being sent to customers. However, it is likely that KPayne LLC will eventually ship finished products directly to customers, said Guzy.
Though a goal for the number of KPayne LLC employees has not been specified, Guzy noted that the company hopes to expand the branch slowly, adding machines and full-time positions with benefits.
The location of the plant makes that possible, as the building - which is being leased - is "open, well-lit, air-conditioned" and has "room to expand," according to Guzy. It's a great spot for KPayne LLC as it enters its busiest time, right before hockey season begins.
---
Contact the author at editor@paynesvillepress.com • Return to News Menu
Home | Marketplace | Community
---