Renee Eckerly, the new city administrator, is getting a crash course in knowledge of Paynesville. She began working on Monday, July 24, and is glad to be back to work, despite the fact the she and her family will be "living out of boxes for awhile" as they continue to organize after moving.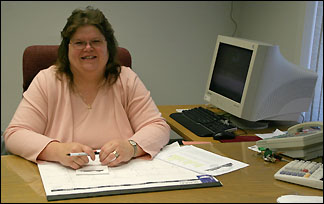 "People should move here in droves," said Eckerly, impressed by the welcome of all community members, and she certainly plans to stay, joking that "dynamite won't get me out of here."
Renee Eckerly commenced her work as city administrator last week, moving here after serving as clerk/treasurer of Cass Lake since 2001.
Eckerly, who served as the clerk/treasurer for Cass Lake since 2001, was selected by the council from a field of three finalists after two interviews in May. Cass Lake, population 860, is located 15 miles east of Bemidji on the Leech Lake Indian Reservation and is approximately one square mile, said Eckerly, whereas Paynesville is about one and a half square miles. Both towns are surrounded by a single township.
Last week, Eckerly began her work: meeting with her new staff, learning about the developments in progress, working on small city grants for businesses and residential areas, and hearing suggestions from community members "looking to improve Paynesville," whose interest impressed her.
A goal-setting city council session was held with Eckerly on Monday, July 31. Before that meeting, Eckerly did not want to identify specific objectives she has, besides "getting acclimated to the community and getting up to speed." Because she just moved to the community, she does not want to give her own input yet but would rather hear goals from the council and other community members to mix into what is already happening in Paynesville, she said.
Eckerly does have some ideas already, though, and she looks forward to getting through the initial six-month or year-long learning curve so that she has the background to really dive into improving the growing community. For now, she said she plans to work with the council and with the staff "being a sponge and absorbing their knowledge."
Going through the unionization process with the staff will be one of Eckerly's first duties. Anticipating that, she said, "I don't picture that as a major obstacle." She has been a member of a union and has been on the other side of unions, too, as the Cass Lake Police Department was unionized when she arrived there and the other city employees there unionized last fall.
"As long as parties come in with an open mind and realize that it's going to be a compromise," unionization is still the negotiation of a contract, noted Eckerly, and she continued, saying it should not be overly difficult. The first negotiations will be the hardest, because the agreement is created from scratch, but completing it will "take a big weight off everyone's shoulders here," she believes.
Eckerly showed her excitement about working with the staff, who she said is "very experienced, very knowledgeable, very independent." She wants to hear their ideas and has an open-door policy with staff, as well as with community members and the council, who she called her boss "below the taxpayers."
Eckerly views the citizens as ready to work for the best for the town and mentioned that committees here are structured and work together well.
Besides her experience with unions, she brings a background in balancing a budget after a significant shortfall from her time in Cass Lake. Contacts she has in grant organizations are excited to continue to work with her, and now with the community of Paynesville, she said.
Eckerly earned her clerk certification from the Minnesota Municipal Clerks Institute at the University of Minnesota. Originally from Farmington, she earned a degree in commputer science from Dakota County Technical College in Rosemount, Minn., and worked with accounting, data processing, and computers prior to being hired by Cass Lake.
Other specifics of Paynesville that please Eckerly as she settles in are the low crime rate, unlike Cass Lake - so her daughter, Rae, can play outside without supervision - and that everyone "takes high pride in homes and yards." Retired after a disability, her husband Mark is sometimes referred to in the family as "Mr. Mom."
"This community fits us," Eckerly concluded, as she considered its location between relatives in the Twin Cities and in northern Minnesota, its size, the opportunities for fishing - which she and her family love - and especially its positive, welcoming attitude. She also looks forward to gardening, a hobby of hers.
Since Steve Helget became the city administrator in Montgomery - after serving as the administrator in Paynesville from January 2002 to February 2006 - public works director Ron Mergen has served as the interim administrator. Now, as Eckerly begins, she said, "I'm here to stay."
"I'm sure there's some flaws, but nothing we can't work on," she said of the town, and laughed that she wondered if she was finding a community that was too perfect, "wondering if I'm doing the 'Stepford Wives' movie."
Even despite the fact that she has a lot to learn yet, Eckerly is so impressed by Paynesville that she figured "I could do an advertisement for the city."
---
Contact the author at editor@paynesvillepress.com • Return to News Menu
Home | Marketplace | Community
---