Teenager dies in car accident
This article submitted by Michael Jacobson on 8/2/00.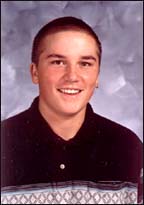 It's every mother's fear: the health and safety of her child.

Countless times, Karen Smith has told her boys, and their friends, to be careful and to drive safely. "That's probably the last thing I said to him, 'Drive carefully.' And he said, 'Yeah, mom, I will,' " Smith explained last week.

Her worst fears tragically came true around noon on Tuesday, July 25, when her son, Adam Winters, 16, was killed in a head-on collision on Highway 23 between New London and Hawick.

Winters was returning from Games Lake when his 1988 Chevrolet Beretta strayed over the center line and collided with a 1998 Ford conventional truck. He was pronounced dead on the scene, according to the Minnesota State Patrol, who responded to the accident, along with the Kandiyohi Sheriff's Department and the New London Fire and Ambulance crews.

The other driver, George Walter Cooper, 57, of Zimmerman, was treated and released from Rice Memorial Hospital in Willmar.

According to the state patrol, both Winters and Cooper were wearing seatbelts. The accident is still under investigation by the state patrol.

Winters would have been a junior this fall at Paynesville Area High School. He liked sports and was active at St. Louis Catholic Church.

He had lived in Paynesville with his mother and older brother, Matt, since 1987, when Adam was three years old. His father, Randy Winters, lives in Waite Park, and his grandfather, Cyril Winters, lives in Regal.

Smith said Adam liked playing baseball and football, fishing, and swimming. She said her son dreamed of playing in the NFL, was considering joining the Marine Corps after high school, and wanted to have ten children eventually.

Throughout the spring and summer, Winters was lifting weights in preparation for the upcoming football season. Jonnie Schefers, a classmate and captain of the football team, said Winters was very dedicated to football and wanted to help the team have successful seasons his junior and senior seasons.

"He was hoping to do really good (in football)," said Chris Nosbush, another classmate with whom Winters lifted weights.

Kyle Nehowig, head football coach for the Bulldogs, planned that Winters would be the starting center on the varsity team this fall. "He was a super kid to coach," Nehowig said. "Just a polite, very respectful kid."

Nosbush said that Winters had strong opinions about football, whether it be discussing the Bulldogs' upcoming season or the Vikings' prospects. He also liked to watch WWF wrestling. "He was more of a serious character," said Nosbush, "but he could be really funny, too."

"He was just a guy you could joke around with," agreed Schefers. "During noon hour, we played farm ball, and we had a lot of fun."

Smith said Winters liked to engage in playful bantering around the house. "He was very talkative at home. All the time," she said. "Sometimes you couldn't shut him up."

At church, Winters was active in the youth group, volunteered as a chaperone for younger kids, and was a mass server for services.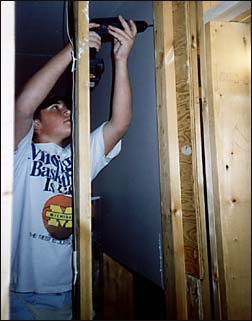 Laurie Rausch, Director of Youth Ministries at St. Louis Catholic Church, described Winters as outgoing, hard working, and having a positive attitude. "He was just always happy," she explained. "He never seemed to have a bad day. He always had people laughing and smiling."
With the youth group, Winters had helped with a Habitat for Humanity Project (picture at left) in Willmar and had attended a retreat near Pelican Rapids two consecutive years. Rausch said Winters impressed the Habitat for Humanity staff so much with his hard work that they wanted to hire him to keep working on the project.
Winters would have been confirmed in October. Rausch said he had completed the classes and just needed to attend the retreat before being confirmed.
"He was a good guy and a good friend to many, and I'm really going to miss him," Rausch concluded.
A closed-casket reviewal for Winters was held Friday night, and the funeral was held Saturday morning at St. Louis Catholic Church. A full obituary can be found on page 8.
Rausch organized a gathering for church youth last week to help the youth cope with the accident. On weekdays, both Rausch and Father Richard Leisen can be reached by calling 320-243-4417.
Help in grieving is also available through the school. High school principal John Janotta said he has been in contact with counselor Jackie Campbell, as well as others, who can help students in need of assistance. The phone number at the high school is 320-243-3761.
Right now, school is on summer vacation. Janotta said the school staff will be watching as school nears and starts to see if kids need help. "If we know kids are hurting, we have a lot of ways to help," he said.
"When you lose someone at a school, it's like losing a family member. It's hard," Janotta added.
---