Korean veterans share experiences
This article submitted by Michael Jacobson on 8/2/00.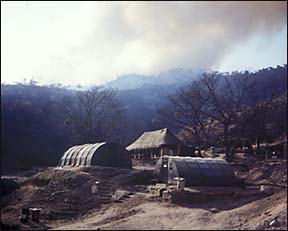 Charles Weber • Carl Wagner • Chuck Chesness<
Pete Hoppe • Wes Nehring
The start of the forgotten war of the 20th Century recently passed its 50th anniversary with a noticeable lack of fanfare. Or is that unnoticeable lack of fanfare?
After all, the Korean War wasn't technically a war, as it completely shattered the World War I model of having polite declarations of war. Instead, it has often been referred to as a "police action," which draws a grim laugh from Charles Weber of Hawick, a veteran of both World War II and the Korean War.
"They called it a police action," explained Weber, who spent 20 months in Korea with a tank crew. "Believe me, it was no police action."
A medical company where Wes Nehring was stationed for 16 months. It ws one step below a M*A*S*H unit, made popular by the television series of the same name.
The Korean War occurred in the shadow of World War II, a war that demanded the sacrifices and effort of a nation and subsequently overshadowed the ensuing conflict in Korea.
Weber himself volunteered for the navy during WWII at the age of 17 in 1944, when everyone did their part to help the U.S.A. He served two years in the navy before being discharged, only to volunteer for Korea four years later.
Weber thinks the Korean War was forgotten because it came on the heels of WWII. But he also thinks Korean veterans added to the silence. "We let it become a foreign war, us vets," he said. "We never talked about it."
Of course, after the reception that many Korean veterans received when they got home, silence must have seemed like a pretty wise course. Far from the rallies at the docks and parades in the cities that marked the end of WWII, brass bands weren't out in force to welcome the Korean veterans.
"When (the soldiers) came back,"╩explained Pete Hoppe, "there was no big homecoming. They just went back to their jobs and that was it."
After Carl Wagner's ship landed on the pier in Seattle, the bus that took the soldiers through the city to the base was splattered with tomatoes and eggs. "That's the kind of reception I got driving through Seattle," Wagner said.
That's the kind of experience that keeps things locked inside. But, Weber and Wagner, along with three other Korean veterans from the area, are ready to share their experiences now, a half century after the start of the war. (See the shaded box on page 1B for a brief history of the Korean War.)
Weber, for sure, thinks it's time they shared their stories. "As vets, we should tell our youth about this so they can learn not to do this, and not pull a gun out and start shooting," he explained.
"Regardless of what war you were in, it's time to start talking to your kids about them. They're the ones who will have to stop the next one," he added.
Charles Weber
When his younger brother was sent to Korea, Weber volunteered for the armed forces for the second time. Only this time he wanted to be in the army, in tanks, in the same unit as his brother, Ralph. "I was going to go over and protect him," Weber admits.
Everywhere he went, Weber asked to be transferred closer to his brother. He got to Hawaii, Japan, and then Korea. Then he needed to be assigned to the 25th Infantry, and the right tank brigade and company.
Weber arrived in Korea as the Allies were advancing in February 1951 without knowing anything about operating a tank. He had never had any tank training. But his brother showed him.
Charles did a pretty good job of protecting his brother, too. When he arrived he replaced Ralph as the bow gunner on a tank, a story that made its way into the Stars and Stripes, the newspaper of the Armed Forces. Ralph was assigned to be a driver for an officer.
Weber's tank crew was assigned to support a Turkish infantry company. When he arrived, the front lines were below the 38th parallel, but he ended up in an area known as the Iron Triangle north of what later became the Demilitarized Zone (DMZ).
Rising from bow gunner to gunner to tank commander, Weber had a tank destroyed underneath him by a land mine. He considers himself lucky to have escaped with a nasty headache for a few days. Artillery shells, mortar rounds, and small arms fire were constant at the front, and Weber adapted to it.
Also grueling were the winter nights, with only the cold steel of a tank or a tent for shelter from the snow and ice. They used to stand guard duty at night in their sleeping bags. "That was the coldest winter that I can remember," Weber said.
"It was awful at night," he continued. "The Chinese and the Koreans were good. They could infiltrate your lines real good."
A real joy for Weber was spending time away from the front and indulging in simple pleasures like a hot bath. "When I got back to the States (in the fall of 1952), that's the first time I felt safe," said Weber, who worked in the turkey industry for 42 years in the Paynesville area before retiring. "I wanted to hug the first person I saw, but I didn't."
Despite some vivid memories of things he'd rather forget, Weber doesn't hold any grudges to the Chinese or Koreans. (He's less forgiving to the Japanese for WWII.) The 25th Infantry even had an orphanage in Korea, which Weber supported. "We donated money to that orphanage because we helped make a lot of those orphans," he explained.
Carl Wagner
Two other local men, both draftees, arrived in Korea about the time that Weber left. One is Carl Wagner, who served as a driver in the 36th Engineer Group. Starting in October of 1952, Wagner was stationed about three miles behind the front with a detachment of combat engineers.
By this time, the trenches were so elaborate that Wagner said you could walk across the Korean peninsula without sticking your head above ground.
Their job was to build roads, dig ditches, and anything else the war effort needed. For five months, Wagner drove a supply truck, carrying barrels of gasoline, fuel oil, and aviation gas to wherever they were needed.
Wagner saw live action, almost as soon as he arrived. His train, on the way to Pusan, was attacked. Then the company he was assigned to got recalled to Japan, but as a new soldier, Wagner got reassigned in Korea.
The base where Wagner was assigned was three miles from the front as a crow flies, but took more than 15 miles of driving the winding, ascending and descending, roads. "Even where we were at, you could hear (artillery fire) all day long," he said. "And then they'd get in a fire fight and you could hear the machine guns if the wind was right."
On five occasions, Wagner had to bring extra supplies to the front. The road to the front took hours to negotiate because as the trucks neared the fighting, they slowed to five miles per hour and navigated with only cat's eye lights.
Wagner was the most scared on his second trip to the front lines. He ended up sleeping in the back of his truck, in the middle of a pile of ponchos, boots, and sleeping bags, as the truck rocked back and forth from all the shelling nearby.
The next morning, he hurried back to his base. "Maybe it took me two days to get there, but it only took me a half hour to get the hell out," said Wagner, who served nearly 25 years in the post office before retiring.
Chuck Chesness
Chuck Chesness also arrived in Korea in the fall of 1952 and served 13 months. He spent most of his tour in Seoul, working in front of a massive switchboard as an operator. The switchboard had 28 boards and a crew of 25 operators per shift.
Those were the days when operators were needed to make the connection for every phone call. A caller would ring to the switchboard and ask to talk with someone, and Chesness had to manually make the connection with a short wire.
They handled communication between military personnel in Korea and between Korea and overseas.
One of the lasting images of the Korean War is the popular television series M*A*S*H. On the show, Radar would call Sparky to make a call to headquarters or Tokyo or California.
Chesness was a real life version of Sparky.
"I have some good memories of Korea. I was lucky enough to be back from the front," said Chesness.
"When I first got there, you could see the firing at the front, but I never got close to it,"╩he added.
The closest Chesness got to combat was Bed Check Charlie, which sounds like a character from M*A*S*H. Roused at nights by the air-raid sirens, Chesness and his colleagues would douse the lights and head to a foxhole, but the plane dropped leaflets not bombs. "Nothing ever came of it,"╩he explained. "It was more aggravating than anything else."
Except for the last three months, when he was stationed and worked on a base, Chesness lived and worked in Seoul. The switchboard was actually in downtown Seoul, and, for a time, Chesness bunked in a building at the University of Seoul. The outside of that building looked far better than the accommodations really were, he said.
"I'd never been out of the country," said Chesness, who returned to Paynesville and worked as a carpenter before retiring. "It was a total new experience for me," he added of his time in Korea.
Pete Hoppe
Both Pete Hoppe and Wes Nehring arrived in Korea just weeks before the armistice was signed in July 1953. They were both drafted at the same time, along with Norm Dahlman, Jerry Braun of Regal, Al Stern of Belgrade, and Virl Liebrenz of Paynesville, who was killed in Korea.
Hoppe, originally from Albany, arrived in Pusan in June 1953 and made his way north behind the center portion of the battle line. He served in Korea for 14 months.
Hoppe was a military policeman, so his duties consisted of escorting convoys, patrolling highways, and guarding military and enemy prisoners.
While on patrol, he was exposed to enemy small arms fire from Communist sympathizers and border clashes many times, especially in the hills. He also escorted prisoners to the stockade in Seoul and even in Tokyo.
The U.S. MPs worked with the Korean MPs and the civilian police. Those two outfits handled most of the refugees.
"I put my time in over there, and I was glad to get back," stated Hoppe, who worked for Northern States Power for 38 years as a civilian.
Hoppe said his service in Korea doesn't seem to be a half century old. "When you look ahead, 47 years seems like a long time," he explained. "When you look back, it seems like a short time."
Wes Nehring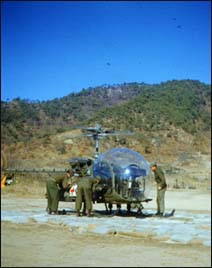 Wes Nehring's outfit really was like the M*A*S*H unit popularized on television. Nehring actually worked in a regimental medical company. Put simply, the helicopters that arrive at a M*A*S*H unit picked up their patients at a regimental medical company.
Nehring arrived in Korea on July 5, 1953, and served 16 months. Only the first was officially hostile, but Nehring said the hostilities didn't all end with the signing of the truce. "You still had to watch yourself," he said. "Always on alert."
His unit was stationed three miles behind the center of the DMZ. After the cease fire, they still had gun shot wounds, land mine wounds, and other accidents and illnesses to care for.
Unloading the wounded.
Nehring worked in the kitchen, which prepared food not only for the medical company but an adjacent supply depot. They cooked for between 85 and 120 people per meal.
"The medics had the best deal in the regiment," Nehring said, "and the cooks had the best deal in the medics."
Nehring used to watch M*A*S*H and laugh because it reminded him so much of his company in Korea. They had poker nights, unpleasant officers, and irregular salutes. Everything but nurses, which were only stationed at M*A*S*H units.
"We had to do our work," Nehring said, "but we could╔have fun (and) screw around, not like a line company."
His scariest moment sounds like a plot from the television series, too. A South Korean soldier who had been wounded twice and wasn't discharged got a rifle and 60 rounds of ammunition and started shooting up the compound.
The order quickly went out for everyone to kill the lights, but the stoves normally took five minutes to burn out. "I blew one out in 30 seconds,"╩Nehring recalled. "You could hear the bullets whizzing by."
The naked rushed from the shower while others jumped the barb wire and hid in a rice paddy.
All in all, Nehring felt fortunate that he wasn't injured in the service.
After leaving Korea, Nehring qualified for helicopter school, but is glad he didn't accept. As a helicopter pilot, he reckons he would have seen more active duty in Vietnam.
Instead, he came home to Paynesville and joined his father at the locker plant, where he worked for 39 years.
---