Granzow participates in Aquatennial pagaent
This article submitted by Erin Aagesen on 8/2/00.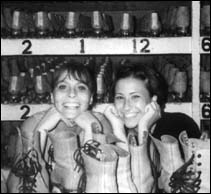 Amanda Granzow, 18, recently competed in the Minneapolis Aquatennial's Queen of the Lakes pageant.

Amanda, left, and another candidate are surrounded by roller skates during a break in the judging.

Any town royalty has the opportunity to compete in the pageant. Granzow was last year's Town and Country Days first princess.

"No one has gone from Paynesville in quite a while," said Granzow. "I thought I'd try and see what happened."

As well as vying for the Queen of the Lakes title, Granzow participated in Aquatennial activities from July 14-July 23. Forty-eight girls from across the state competed.

The girls went through three formal judging sessions. For the first one, five girls were put in a room with one judge, each taking turns talking with the judges for five minutes individually.

In the second judging session, the girls were asked an impromptu question. In the third, more formal judging session, the girls wore white gowns while answering impromptu questions.

There was also a "meet the candidate" portion of the contest. The girls were asked to come up with creative outfits that either represented their interests, personality, or town festival. Then, they made a brief statement as to why they chose that outfit.

Girls dressed as fishing bobbers, pumpkins, and lifeguards. Granzow chose to dress as a businesswoman, because that is what she aspires to be.

Next, they held a community luncheon where each of the candidates were asked another impromptu question.

The candidates were in both the Grand Day and Torchlight parades. They also went to the governor's mansion, met the governor's son, talked to patients at a veteran's hospital, and watched a fireworks display on Boom Island.

"The best part was making new friends," said Granzow. "Everyone got to know each other well."

At the coronation at the end of the contest, Lisa Carlson of Willmar was crowned Queen of the Lakes.

"It's a very good experience," said Granzow. "I recommend anyone trying out to contact other royalty who have done it before to find out what it's all about."
---