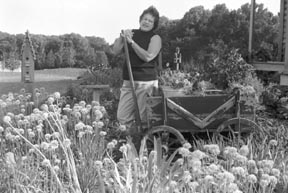 The hot, dry weather is taking its toll on more than crops in the area this summer. Many flower gardens are feeling the effects of the heat and the lack of rain this year. Some flowers have bloomed early, and others haven't lasted long because of the heat.

This is cause for some concern with the annual Grace United Methodist flower show scheduled for this weekend.

Pam VanderBeek has more than 50 varieties of flowers in her flower bed. Her prize possession is a goat cart on which she places pots full of flowers and which she moves from one area of the garden to another.

Pam VanderBeek, who lives south of Lake Koronis on Highway 4, has entered floral arrangements in the show for the last two years, but she doesn't know yet which flowers to enter in the 41st annual show.

The flower show will be open from 1 to 6 p.m. on Saturday, Aug. 4, and from 8 to 11:30 a.m. on Sunday, Aug. 5 in the church fellowship hall.

VanderBeek credits her mother for her interest in flowers. "I grew up with flowers everywhere," she said.

Since she and her husband, John, built a new home on top of a knoll southeast of Paynesville three years ago, her flower gardens are a work in progress. Each year, she adds more to her garden.

VanderBeek has carried rocks from a nearby rock pile to design a wall on the hillside on the southeast corner of their house. On the west edge, another rock project has tiers and steps with wildflowers on each level. Last year, she designed rock steps behind the house.

This year, VanderBeek is concentrating on a garden near the driveway, but she has been tested because the soil keeps eroding.
Her main flower garden is in front of the house with rock paths leading from one plot to another. This flower bed is 12-feet wide and 40-some-feet long, running from the driveway to the end of the house.
VanderBeek estimates she has 50 different types of flowers in her flower beds, including thistle globe flower, Siberian iris, Japanese lilac, and porcelain berry vine. She even has a perennial geranium, which looks more like a bush than the normal single plant.
When looking for plants, she looks for colorful blooms, but also something that is hardy enough to survive a cold Minnesota winter.
The flower bed in front of the VanderBeek home features purple flowers and measure 12-feet deep and extends more than 40 feet from the driveway to the edge of the house.
"I'm trying to do one whole flower bed in purple perennials," said VanderBeek. Next year, her goal is to start a flower bed consisting of yellow day lilies. "I pick one color a year to work with," she said.
"I like perennials and wildflowers because you don't have to plant them every year," she added. Her mother and grandmother have donated a lot of plants to her garden.,P> Since her gardens are situated on a sand hill, she has an irrigation system in each flower bed, making it easier to water her plants. To help hold the moisture in her flower beds, she uses wood chips and grass clippings as mulch.
---
Contact the author at paypress@lkdllink.net • Return to News Menu
Home | Marketplace | Community
---