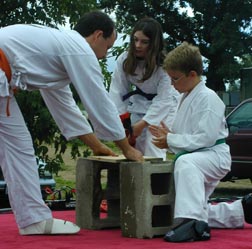 On Saturday, Crystal Hills Assembly hosted their first outdoor Christian festival on the grounds of their church five miles east of Paynesville. Fun in the SonFest was held as an outreach attempt by their church to the community.

"We had a good day and everything went really well," said Pastor Lonnie Gleitz. "The weather really looked bad for a while. I was glad to see the sun come out."

Shane Brown holds a board for Dane Wellens to break during a Tae Kwon-Do demonstration in the talent show at Fun in the SonFest. Looking on, waiting for her turn to break a board, is Phoebe Wellens. All three are members of Crystal Hills Assembly.

Gleitz estimated they had about 400 people come and go during the eight-hour festival.

The festival was a way for the church to reach out to the community. "We want to be a community church," Gleitz said.

The festival opened at 10 a.m. with games, followed by a local talent contest with 15 entries. Talents ranged from skits and musical numbers to a Tae Kwon-Do demonstration. Winning the contest was a Guatemalan drama team from Crystal Hills, comprised of Jeremiah Gleitz, Tracy Miller, Becky Schaumann, and Katie Schaumann. Second place went to Joe Halvorson of Paynesville who sang "The Water is Wide." Third place went to Kayla Chellin of Litchfield, who sang "Cowboy Sweetheart."

Judging the contest were Clarice Stumo, Dr. Ray Lindeman, and Cindy Zimmerman.

Other afternoon events were a clown skit, a Christian band, and a testimonial. "It was a good learning experience for us," said Pastor Gleitz. "Hopefully, we'll grow and improve with each fest we host."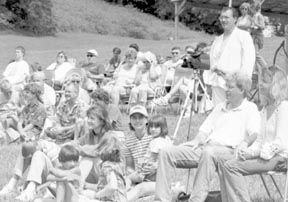 Organizers are already considering a tent to provide shade next year.
Church members were also grateful for the help they received from the community and other churches in organizing the festival. Members of the Paynesville Fire Department and ambulance personnel were on hand to give demonstrations. Volunteers took turns sitting in the dunk tank to raise funds for the Crow River Trail Guards.
A large crowd was on hand to watch the Community Talent Contest on Saturday morning at Fun in the SonFest. The contest had 15 entries, including three from Litchfield.
Dennis Zimmerman, a Crystal Hills member, felt the day went great but was disappointed in the turnout. The church, located on the grounds of a former ski hill, owns more than 100 acres and hopes to better utilize the land in the future.
---
Contact the author at paypress@lkdllink.net • Return to News Menu
Home | Marketplace | Community
---