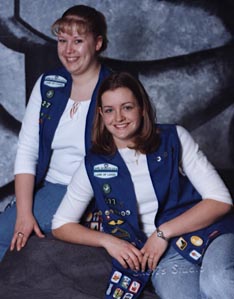 After spending more than 60 hours each on their project, Mindy Meagher (right) and Heidi Steinhofer (left) have met the final requirement to receive the Girl Scouts' highest honor, the Gold Award.

Meagher and Steinhofer will become the seventh and eighth Paynesville Girl Scouts to earn the award this year - joining Melissa Bachman, Jen Bruntlett, Courtney Fuchs, Rachel Koehn, Krista Kotschevar, and Lisa Stanger - when they receive their awards on Saturday, Aug. 3.

Meagher and Steinhofer will both be seniors next school year, and they are the first Paynesville girls to receive the award before their senior year of high school.

"We pushed ourselves to get it done early," said Steinhofer. Meagher added that meeting the deadlines was nearly as challenging as the project itself.

Meagher, the daughter of Pat and Lorie Meagher, and Steinhofer, the daughter of Chuck and Korelle Steinhofer, worked together on their Gold Award project. The girls sewed items for the Veteran's Memorial Hospital in St. Cloud. They made 162 wood cut-outs, 25 personal bags, 12 walker bags, three knotted quilts, and one hand sewn quilt.

However, the project wouldn't have been possible without help from others, said Steinhofer.

Help first came from the women at Grace United Methodist Church. During the winter, the ladies meet to quilt every Tuesday and Thursday, and Meagher and Steinhofer joined them one day. The ladies were eager to teach them how to hand knot a quilt, a basic quilting technique.

When Meagher and Steinhofer had finished hand-knotting their third quilt, they decided to try hand sewing a quilt, which is more time-consuming and requires more skill than hand-knotting.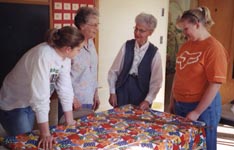 At left, Meagher and Steinhofer recieve quilting lessons from the women at Grace United Methodist Church.
The girls held a community sewing night at the home economics room in the middle school to get some help with their project. Several women from the community volunteered their time to sew. "They really knew what they were doing, and we were able to learn a lot from them," said Meagher.
After completing the hand-sewn quilt, the girls presented it to a veteran selected by the staff at the Veteran's Memorial Hospital. "The guy we gave it to was just completely tickled," said Meagher. "That was my favorite part of the project, because it was a fun way to see everything completed."
Both girls exceeded the required 50 hours of work on the project. They also kept track of all costs and materials used during the project.
Besides meeting all requirements for the project itself, Meagher and Steinhofer have put in eight and ten years of service, respectively, with the Girl Scouts.
"We put a lot of work into it," said Steinhofer.
"It feels good to be finished," added Meagher.
Service has its own way of giving back, the girls noticed. "I learned a lot of skills that I can use in the future," said Steinhofer.
Meagher and Steinhofer were also thankful for the donations of material and money that they received from many different sources.
For the presentation of their gold awards, an open house will be held on Saturday, Aug. 3 at 2 p.m. at the St. Louis Catholic Church in Paynesville. The program will include an overview of their project, as well as their official Girl Scout farewell. Everyone is welcome, and there will be free food.
---
Contact the author at paypress@lkdllink.net • Return to News Menu
Home | Marketplace | Community
---