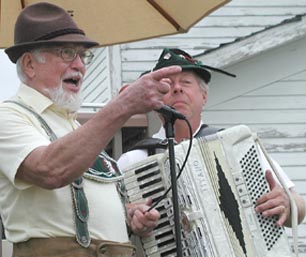 The Paynesville Human Rights Commission and the Paynesville Area Chamber of Commerce are sponsoring the second Festival of Ethnic Traditions on Sunday, Aug. 4. The festival will be held from noon to 6:30 p.m. on the grounds next to the Paynesville Area Historical Museum.

Last year, emcee Ray Lindeman dressed in his best German attire and sang German songs as he was accompanied by the accordian. This year people attending the festival on Sunday are encouraged to dress in ethnic clothing as well. Prizes will be awarded for the best costumes.

"The purpose of the festival is to display the history of our ethnic background and to foster a mutual understanding of the many cultures which comprise our great state of Minnesota and our nation," said Kent Kortlever, chairman of the Paynesville Human Rights Commission. "We believe that cultural awareness and understanding are critical in today's multi-cultural society, and whatever we can do to promote the concept of peaceful coexistence will benefit everyone."

Despite the cool weather last year, Kortlever estimated 500 people attended the first ever festival. This year he expects around 1,000 people due to increased advertising and, hopefully, better weather.

The festival will start at 12 noon with an opening ceremony. A variety of ethnic entertainment will follow, starting at 12:30 p.m.

Two performances have local connections. Leroy Schlangen of Roscoe will provide German accordion music. Kevin and Maureen (Kelly) Carroll, summer residents of Lake Koronis, are part of the Legacy of Irish Dance and Music.

Travis and Pari Bailey, both pastors who reside in the Sunburg area, will play bagpipes. Other entertainment includes a magic act, Mexican music and dance, Scandinavian music and fiddling, and yodelling.

Dr. Ray Lindeman and Lynne Jacobson will be the emcees again this year.

Due to a limited number of chairs and tables, people are encouraged to bring their own chairs and blankets.

A children's area will feature a petting zoo, Mexican Bingo, painting, and the GUMppets.

Numerous booths will sell ethnic foods. Once again the Chamber of Commerce is sponsoring free samples of food this year. Larger food portions will be available for sale.

Ethnic foods include brats with sauerkraut (Girl Scouts); tacos (Girl Scouts); fry bread (Paynesville Area Transit); fish tacos and elk burgers (St. Paul's Lutheran Church youth group); jambalaya (St. Louis Catholic Church youth group); Italian sodas (Consortium for Creative Arts); fresh Mexican salsa; foreign candy (Paynesville Lutheran Church youth); and pop (PNLS Youth Hockey Association).

People are encouraged to dress up in their best ethnic costumes when attending the festival. Prizes for the best costumes will be awarded for best adult male, adult female, young boy, and young girl.

Admission to the festival is free, and the historical museum is offering a reduced price admission of $1. The Paynesville Area Historical Museum is located on the east side of Paynesville, just off Highway 23.

Parking will be available near the festival; watch for signs for the parking area. Transportation also will be available from downtown to the festival by Paynesville Area Transit. A bus will be running from the Community First National Bank parking lot to the festival grounds every 15 to 20 minutes at no charge.
---
Contact the author at paypress@lkdllink.net • Return to News Menu
Home | Marketplace | Community
---