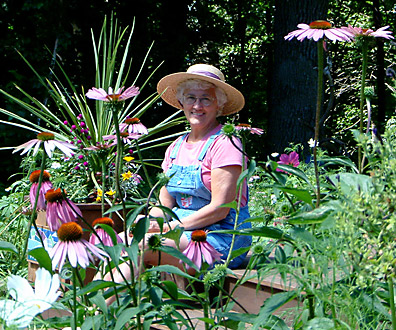 Kathy Ziegler is making her final preparations for the 43rd annual flower show at Grace United Methodist Church, which will be held this Saturday and Sunday.

But Ziegler, who is a member of the recently founded Paynesville Area Garden Club, will be doing more than entering the flower show this year. She, and other members of the garden club, will be shadowing church members, so they can become more actively involved in the show's organization in the future.

The flower show gives amateur gardeners a chance to display the fruits - or rather, flowers - of their labor. The show has nine themes for artistic arrangement and over 70 categories for annual and perennial flowers.

"Anybody is welcome to enter, and anybody can win," said Ziegler.

The flower show will be open to the public from 1 to 6 p.m. on Saturday afternoon and from 8 to 11:30 a.m. on Sunday morning.

Although Ziegler and her husband, Frank, have only lived in Paynesville for three years, she has had a passion for gardening since she was knee-high, she said.

"My dad had a big veggie garden, and mom had a little flower garden," remembered Ziegler. "I learned from my dad to love digging in the soil, and my mother taught me to appreciate little things like flowers and birds."

A quick glance at the colorfully be-flowered Ziegler residence on Lake Koronis shows that these childhood values have indeed grown alongside her.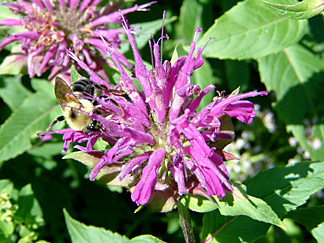 Ziegler thinks the only way a person with a busy schedule can have a garden is if they get their kids involved. She also thinks that people are most likely to become interested in gardening if they are exposed to it as a child, citing that her husband has now been exposed to it for many years but still doesn't discriminate between mowing grass and mowing flowers.
The Paynesville Area Garden Club began as an off-shoot of a Community Education class taught by Dorine and Urban Fuchs. A number of participants decided to put flowers in the planters around town, and, since then, the group has grown from seven to 25 members from Paynesville, Brooten, Hawick, Belgrade, and Richmond.
"I'm new here, so it's nice to meet other people that share an interest in gardening," said Ziegler.
Ziegler said the group is a lot more easy-going than big horticulture groups typically found in large cities. "It's a fun bunch, and anyone who's interested in gardening is welcome," said Ziegler.
Experienced members get an opportunity to pass on their gardening knowledge to younger members. Ziegler has picked up on all kinds of tips, from burying banana peels under a rosebush, to the suggestion of planting one's garden in the nude (to ensure the weather is warm enough for seeds). Of course, she has found some tips more useful than others.
The garden club meets on the third Thursday of each month at 7 p.m. at the Paynesville Area Center. During the summer, the group car pools to tour area gardens, and during the winter months they have guest speakers who talk about a variety of gardening topics.
Membership is $25 per year, but anyone in the public is welcome to visit their meetings for free.
One of Ziegler's favorite aspects of gardening is saving the seeds of good flowers and vegetables and re-seeding them in the spring. "I like to start from seeds," said Ziegler. "I think taking a small seed that's just a dried out little thing, putting it with dirt and water, and seeing a beautiful flower or vegetable come from it is just a wonderful thing."
Although many gardeners have a favorite kind of flower, Ziegler said she just likes the hardy ones that stick with her through the winter. Her favorite name for a flower is "Kiss Me Over The Garden Gate," even though she has no idea what kind of flower that actually is.
Ziegler also appreciates the organic aspect of vegetable gardening. "I love to know that there's nothing sprayed on my lettuce," she said. "And if I dig up a potato I know I can eat the skin."
The health aspect of gardening appeals to Ziegler, and she sees it as connected to other areas of life. "It's good therapy to see things growing, whether you are gardening flowers or children or anything else in life," said Ziegler. "You feel like you're improving the earth. I believe you should leave things nicer than you found them, and gardening can help you do that."
---
Contact the author at editor@paynesvillepress.com • Return to News Menu
Home | Marketplace | Community
---