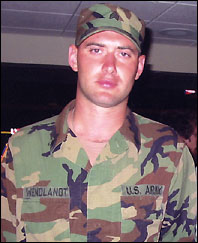 Paynesville native Troy Wendlandt will be part of the largest overseas deployment of Minnesota National Guard troops since World War II. The 1,100 troops will be deployed to Bosnia, starting in September, for a peacekeeping mission.

Wendlandt said goodbye to his family and his girlfriend on Saturday, July 19, the day after a huge send-off party for the troops at the Xcel Energy Center in St. Paul. Wendlandt, a member of the Minnesota National Guard's 34th Infantry, will train at Fort McCoy in Wisconsin and then in Louisiana before shipping out to Bosnia.

Even though his family could still visit him in Wisconsin, he doesn't want them to because he thinks it would be too difficult to say goodbye again. "There's only so many times you can say goodbye," he said.

Wendlandt, a 1999 graduate of PAHS, is a fuel specialist for an armor unit stationed in Sauk Centre. The unit got word of the pending deployment in late May and reported to Camp Ripley in mid-June. Troy was surprised when he got word of the deployment. He assumed that since the war in Iraq was nearly over, the likelihood that his unit would be deployed this year was slim.

While in Bosnia, Wendlandt will be a part of a stabilization task force and a member of a mounted patrol headquartered near Tulza. For the next nine months, the task force will act as police - a task performed by U.S. troops since 1995 - while Bosnian civilian authorities build the strength to take over the duties. Soldiers will patrol villages, and monitor the removal of thousands of land mines left over from the war.

Troops will also look for signs of the mafia, said Wendlandt. "Because Bosnia is so poor, there is a huge black market and a lot of organized crime," he said.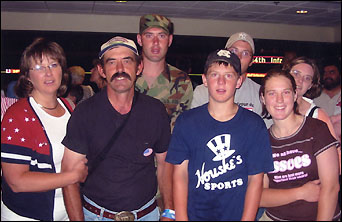 That Bosnia is not a hostile place for American troops pleases his mother Doris, who believes that the biggest danger will come from the mines littering the country.
The Troy Wendlandt family - (front) Doris, Tom, and Michael Wendlandt, and Trisha Paulson; (back) Troy Jamie, and Jennifer Wendlandt - said goodbye to Troy at a send-off party held recently at the Xcel Energy Center.
Troy, however, believes his unit's greatest hazard could be the country's narrow roads themselves, which can be treacherous, especially in the winter. "If we can get through this without any vehicle accidents, we'll be doing good," he said.
While his unit is stationed in Bosnia, "home" will be a new base with a state-of-the-art gym and fitness center, a 24-hour snack bar, entertainment facilities, and a new computer center where Troy will be able to keep in touch with his family by e-mail.
Troy's parents - Doris and Tom - are fearful for their son, but Doris reminds herself that this is Troy's choice. "He has trained me not to be emotional. This is what he wants to do," said Doris, who noted that her son volunteered to go on the Bosnia mission so a soldier with a new family wouldn't have to. He volunteered in spite of taking a pay cut that has him worrying about making the payments on his new house near Avon.
Troy actually joined the National Guard while he was still in high school. He was just 17 when he asked his parents to sign his enlistment papers. Doris was reluctant at first, but Troy convinced her that if she didn't he would join when he was 18, she said. He wanted her approval, so she finally relented.
Troy spent the summers after his junior year and after graduating in training and made the rank of sergeant quickly while working on a civilian career in heating and air conditioning, said Doris.
Troy's unit is expected to be in Bosnia until April 2004. While he is gone, Troy would love to hear from folks from home, said his mother. Cards and letters can be sent to: Sgt. Troy Wendlandt, Task Force Iron 2-194 AR, OJF Camp McGovern, APO AE 09789.
---
Contact the author at editor@paynesvillepress.com • Return to News Menu
Home | Marketplace | Community
---