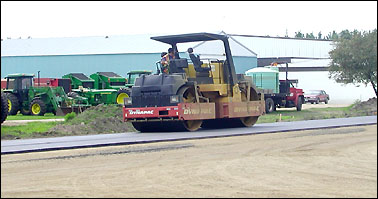 A first layer of asphalt was put onto Lake Avenue last week, and yellow center lines were painted on Friday.

The street is now driveable, but the detour will remain in effect. The barricades will probably stay in place until the sodding and landscaping is finished. Until this work is completed, motorists may still encounter construction equipment on the street, also known formerly as Highway 124.

Most of the project should be finished and the street should be open for regular traffic within two weeks, as long as the weather holds, estimated Jeremy Schmid of the Stearns County Public Works Department, who doesn't have an actual timetable for the project's completion.

The last layer of asphalt will be left until next spring. Because heavy rainfall this summer may have left the ground under the street - in the block from Mill Street to Highway 23 - unstable, the new pavement may heave or develop sinkholes. The engineers want to wait until spring to see if this happens because it will be easier (and less expensive) to repair the street before the last layer of asphalt is laid.

The Lake Avenue project - planned for 2002 but not started until April 2003 - took longer than expected because of the summer's wet weather.

The project was funded by the state and conducted by the county, which has taken the road back from the state. (The road's new name is County Road 66.) The state paid for the construction of the new road, including redesigning the intersection with Highway 55 and Co. Rd. 181, which eliminated the on and off ramps.

While the road was rebuilt, the city of Paynesville upgraded the sanitary sewer and water systems and improved the storm sewer, including building a stormwater retention pond.

Sanitary sewer, water, and storm sewer improvements were finished by mid-June, according to public works director Ron Mergen.

The new stormwater retention pond was ready for the heavy rainfalls in late June and early July, and the new pond worked well, added city engineer Pete Carlson. All that remains to complete the pond is some fine grading to improve its appearance.

Lake Avenue residents will pay for sanitary sewer, for water service, and for part of the storm sewer improvements through assessments. A final public hearing on the assessments could be held in September.
---
Contact the author at editor@paynesvillepress.com • Return to News Menu
Home | Marketplace | Community
---