Spooners are host to French exchange student
This article submitted by Aaron Ziemer on 7/28/99.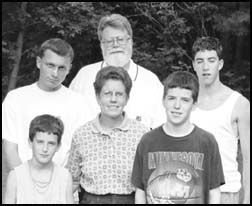 The William and Kay Spooner family is hosting a French exchange student, Remi Lazdunski, until Aug. 1.

Lazdunski is from the southeast part of France in a town known as Nice. He has been with three different host families in America. He has also been to the United States twice with his family.

The other places Lazdunski stayed with host families are, San Diego, Calif., Georgia, and New York.

With his own family Lazdunski has been to Washington, D.C., New York, San Francisco, and Seattle.

Lazdunski's stay in Minnesota is beginning to wind down. He arrived on July 9, and will leave on Aug. 1, so it is a three-week stay. The name of the program that brought Lazdunski to the area is called ICFA. Tim Whaler has been running the program in the Paynesville area.

This is the first time the Spooners have ever hosted an exchange student.

"We have talked about hosting an exchange student before and wanted to get our feet wet," said Kay Spooner. "We also kind of wanted to expose our children to a new culture."

They have done some interesting things to show Lazdunski different things about Minnesota.

They have gone camping, taught him how to play golf, taken him to Valley- fair and the Mall of America. They also attended the Aquatennial Torchlight Parade in Minneapolis.

"I am learning how to play golf," said Lazdunski.

Lazdunski has many interests. He is a big tennis player. His favorite tennis player is Yevgeny Kafelnikov. He is also a drummer in a band called Feedback.

Other things he likes to do include, skiing, snowboarding, and loves to play soccer.

When Lazdunski returns to France he plans to go into medical school, to, hopefully, become a doctor.

The medical school in France allows anyone to attend it for the first year. After the first year only 72 out of how- ever many people there are can make it and continue on to become a doctor.

"We are going to be really sad to see Remi leave," said Kay Spooner. "We have really enjoyed his humor."
---