Vicky Frank's garden is good therapy
This article submitted by Linda Stelling on 7/14/99.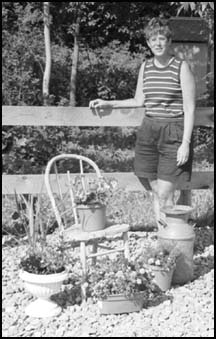 "I consider gardening my therapy. I'm away from the telephone and can't hear the kids argue," Vicky Frank, Paynesville, said.

Frank said it seems like she has been gardening forever. Her parents own a landscaping business at Monticello. Her grandmothers always had a garden.

When they moved from St. Martin to south of Paynesville five years ago, she had to start from scratch, making new flower beds. "The lot was all woods and we had to clear the area for the house," Frank said. They also brought in a lot of black dirt as the area was clay and sand, not suitable for flower gardens.

She has a windmill flower bed, rock garden, and another in front of the house. "I had to make all my flower beds by hand as I didn't own a tiller. Don finally bought me a tiller this year on an auction sale," Frank added.

Frank said she has between 15 and 20 different kinds of annuals planted and she fills in the spaces between the plants with perennials.

"I try to label all my flowers, otherwise I don't know what is what," she added.

"I keep adding to the garden space each year, clearing away more wooded areas, making room for more flower beds," Frank said. "I have to be careful when working in the garden, especially near the bushes as we have a lot of snakes in the area. I don't like snakes!"

Besides flowers, Frank adorns her garden with baskets, scoops, figurines, chairs, and pails. "I'm always looking for items that will work as accessories in the flower beds," she said.

Frank will be among the exhibitors at the 40th annual flower show at the Grace United Methodist Church on Saturday and Sunday, July 31 and Aug. 1, in the church fellowship hall.

Frank has been exhibiting about eight years at the flower show.

The theme of this year's show is "Happiness is..." The flower show, held from 1 to 6 p.m. on Saturday and until 11:30 a.m. Sunday, is sponsored by the women of Grace United Methodist Church.
---