Tenth graders (in reading) and 11th graders (in mathematics) at Paynesville Area High School exceeded state averages on the 2004 Minnesota Comprehensive Assess-ments, taken in April 2004.

Nearly 93 percent of tenth graders at PAHS showed proficiency in reading (easily topping the statewide average of 78 percent), and nearly 80 percent of 11th graders at PAHS showed proficiency in mathematics (topping the statewide average of 70 percent).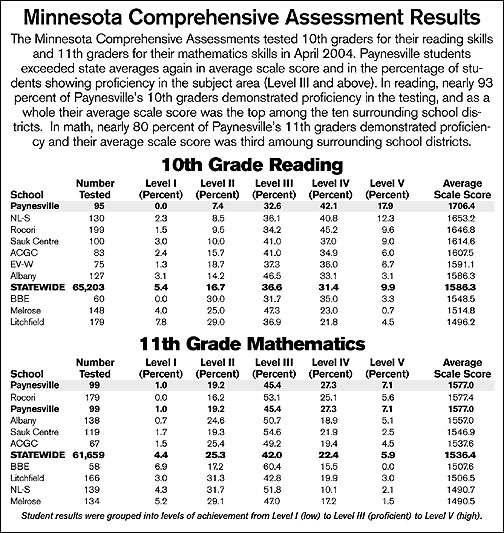 PAHS - compared against the nine neighboring school districts (see chart on page 2) - was first in tenth grade reading and third in 11th grade mathematics.
In reading, Paynesville's tenth graders recorded an average score of 1706.4, besting the state average by 120 points and beating the next area school by 50 points.
"Astounding," said Deb Gillman, the district's curriculum coordinator and its new elementary principal, of the test results. "We did well. It was a very nice testing result."
In mathematics, Paynesville's 11th graders recorded an average score of 1577.0 on the test. The state average was 1536.4. Paynesville's average score trailed only Eden Valley-Watkins (1623.6) and Rocori (1577.4) among neighboring school districts.
On the tests, students are judged on five levels, from Level I (low) to Level III (proficient) to Level V (high).
This is the second year that MCA tests have been given to tenth graders in reading and 11th graders in mathematics. The tests, due to changes in the state language arts and mathematics standards, were different from last year, invalidating comparisons from 2003 to 2004.
While the school district has worked to improve the math curriculum in the lower grades - buying new books for grades K-6, requiring more teaching time for math in the elementary school, etc. - the results indicate that PAHS 10th and 11th graders fare very well against their peers.
"It shows that we still have a strong program, and we're going to get better," predicted Gillman.
District students need to continue to improve their test results or the district risks failing to make adequate yearly progress, a requirement of the federal law known as No Child Left Behind. Targets for adequate yearly progress continue to rise until 2013, when all students should meet standards, meaning the district needs to continue to improve its tests scores.
"You can't just sit back and rest on your laurels anymore," Gillman said.
---
Contact the author at editor@paynesvillepress.com • Return to News Menu
Home | Marketplace | Community
---